The Secret to a Perfectly Composed Advance Directive in CT
Creating and signing an advance directive in Connecticut is the simplest way to convey your health care preferences if you become incapacitated. Unfortunately, not many residents of the Constitution State know how to prepare such a document.
The manual we created helps you compose a state-specific health care directive that contains all the necessary details and sections. Sign up for DoNotPay and generate the desired document without unreliable templates or pricey legal assistance!
How Is a Connecticut Health Care Directive Defined?
An advance directive in Connecticut is a legally binding document regulating how a person should be treated if they are terminally ill or permanently incapacitated. It conveys the patient's health care wishes and preferences to medical practitioners and tells them how to act if a person can't make independent choices.
Residents of Connecticut can prepare a health care directive while they are still mentally and physically healthy. The document doesn't become effective before the attending physician confirms that the person can't communicate or decide for themselves.
What Types of Connecticut Advance Directives Are There?
The state law proposes two types of advance directives:
Connecticut living will (or health care instructions)
Connecticut health care proxy (or an appointment of health care representative)
Connecticut Living Will
In Connecticut, creating a living will means compiling a list of future health care instructions related to:
Undergoing life-sustaining treatments, such as:

Mechanical breathing
Tube feeding
Blood transfusion and dialysis
Chemotherapy and radiation
Antibiotics and other medications

Hiring and firing specific medical staff members
Choosing adequate medical care facilities
Defining the end-of-life care and pain relief specifics
Donating organs or making anatomical gifts after death
Connecticut Health Care Proxy
A health care proxy, also called a medical power of attorney, is a document that lets a person choose someone they trust as their health care agent.
The role of an agent is to make decisions on the patient's behalf if they become too sick to inform doctors about their wishes or decide for themselves. Unlike the regular power of attorney, which revolves around finances and legal matters, a health care proxy only addresses medical care matters.
What Should a Valid Advance Directive in Connecticut Contain?
Check out the recommended content of the Connecticut living will and details about the appointment of a health care agent:
Type of Advance Directive
Details
Living will

Name of the principal—the person who conveys their medical care wishes
Situations in which the living will becomes effective—a confirmed incurable illness or permanent unconsciousness
Specific instructions
Other requests
Signature of the principal and two adult witnesses
Date of signing

Appointment of health care representative

Name and address of the principal
Statement confirming the appointment of an agent
Name of the designated primary and alternate (secondary) agent
Signatures and addresses of all parties involved
Date of signing
How To Compose an Advance Health Care Directive With DoNotPay
Preparing a solid advance directive in Connecticut isn't easy. It involves:
Finding a suitable state-specific form or creating one yourself
Filling out the document with correct information
Bringing the completed form to the notary to have the signatures verified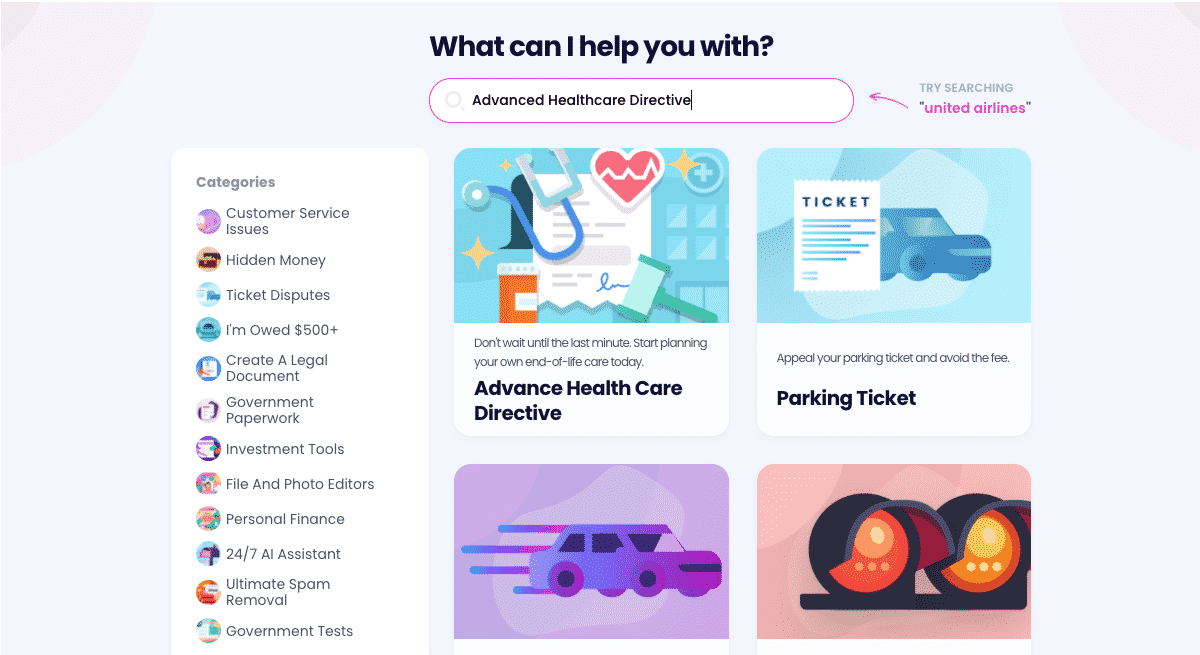 DoNotPay can solve the matter for you by providing you with a personalized living will or medical power of attorney in the blink of an eye. You don't need to pay a small fortune for a single document or complete any paperwork. Answer several simple questions, and we will generate the document you need in less than five minutes!
Here's how we can help you:
Open DoNotPay and find Advance Health Care Directive
Name your health care agent and witnesses
Give us more details about your medical care preferences
Besides creating the desired document, our app can also assist in connecting you with an online notary public, so you can get your documents notarized without breaking a sweat!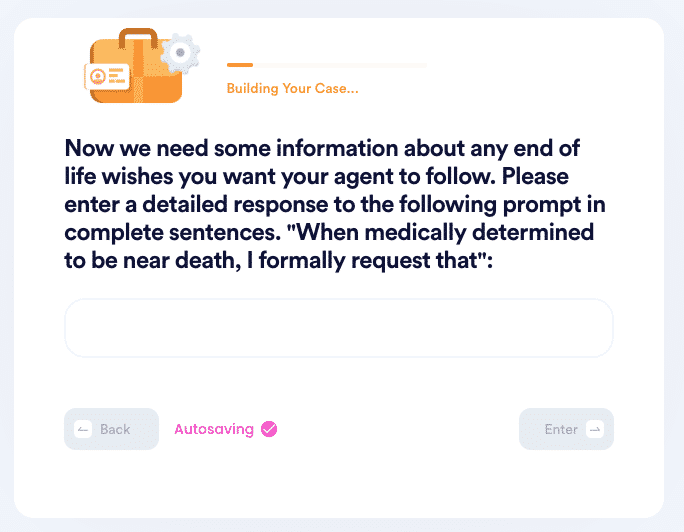 Rely on DoNotPay and Get Rid of Administrative Issues
Are you tired of returning items, canceling subscriptions, fighting parking tickets, and mailing letters? We can help you fast-track all these tasks and more! Do you need help reaching customer service, fighting workplace discrimination, submitting defamation demand letters, or filing HR complaints? Use DoNotPay and solve any issue without a hitch.
Feel free to also use our app to study for government tests, apply for scholarships, appeal low financial aid offers, and request college fee waivers.
Do you need help paying bills? DoNotPay can assist you in lowering your property taxes, getting gift card cash back, entering sweepstakes and giveaways, and getting refunds.
With us, you'll be able to both earn and save money!
Say Goodbye to Spammers With DoNotPay's Assistance
Getting spammed on the daily? Our app can put an end to this annoying issue! Block spam emails, text messages, and robocalls in a few clicks. We can even help you deal with stalking and harassment.
Thanks to our Burner Phone product, you'll get a temporary phone number that you can submit when registering on different platforms and protect your privacy.
Another way to keep your privacy intact is using DoNotPay's virtual credit card. Signing up for free trials without hidden charges and revealing your contact details has never been easier!