All You Need To Know About Getting an Advance Directive in Colorado
Advance directive forms are documents that help the declarant discuss their wishes and needs regarding medical treatments and after-death procedures. Most states have two or three advance directives, but Colorado has a total of four, each with its own peculiarities. DoNotPay dives into each advance directive in Colorado so you can choose the one that fits your needs.
Colorado Advance Directive Forms Explained
The State of Colorado acknowledges the four following types of advance directive forms:
Living will
Medical orders for scope of treatment (MOST)
Cardiopulmonary resuscitation (CPR) directive
Do not mistake a health care proxy for a medical power of attorney—the State of Colorado acknowledges the difference between the two. A Colorado health care proxy is established only when the patient has no advance directive and represents an agreement between the patient's loved ones and medical care providers. The law allows the appointment of a proxy decision maker for the patient in question, who has the same rights as a health care agent.
The Differences Between Different Colorado Advance Directive Forms
Check out the specifics of each advance directive in Colorado:
| Advance Directive | Purpose |
| --- | --- |
| Medical durable power of attorney (MDPA) | You can use a medical power of attorney to designate a person (health care agent) to make choices regarding your medical treatment in your stead. You and the agent need to sign the document, while a witness' signature and notarization are not mandatory, but help you prove the documents' authenticity |
| Living will | A Colorado living will form, also known as declarations as to medical treatment, refers to the life-sustaining treatment and artificial life-support you want to receive or avoid. You need to sign the document, along with two witnesses, for it to be valid |
| Medical orders for scope of treatment (MOST) | Chronically ill people use MOST to instruct medical workers about treatment and procedures they should perform or avoid. If you're in that category and need this document, you and your medical care provider need to sign it |
| Cardiopulmonary resuscitation (CPR) directive | A Colorado CPR directive, also known as a do-not-resuscitate (DNR) order, instructs medical workers not to perform CPR on you if you're too frail. For this form to be valid, you and your doctor have to sign it |
The Benefits of Getting a Colorado Advance Directive
Some of the benefits of completing advance directive forms are that you:
Inform your family, friends, and medical care providers about your wishes regarding treatment before you become incapacitated
Ensure you get relief if your medical condition shows no signs of improvement
Can reduce your final medical bill by rejecting life-sustaining treatment when your condition is deemed terminal and irreversible
How To Decide on the Best Advance Directive Form in Colorado for You
To ensure the document(s) you opt for suit your needs and preferences, you should consider:
Researching available health care treatments
Choosing the right health care agent
Calculating your potential medical expenses (and consulting your budget)
Talking to your assigned doctor about your condition and asking them about their prognosis
Asking your loved ones for their opinion regarding your wishes
A good practice would be to create the documents you deem in accordance with your wishes, and DoNotPay can help you do it with ease!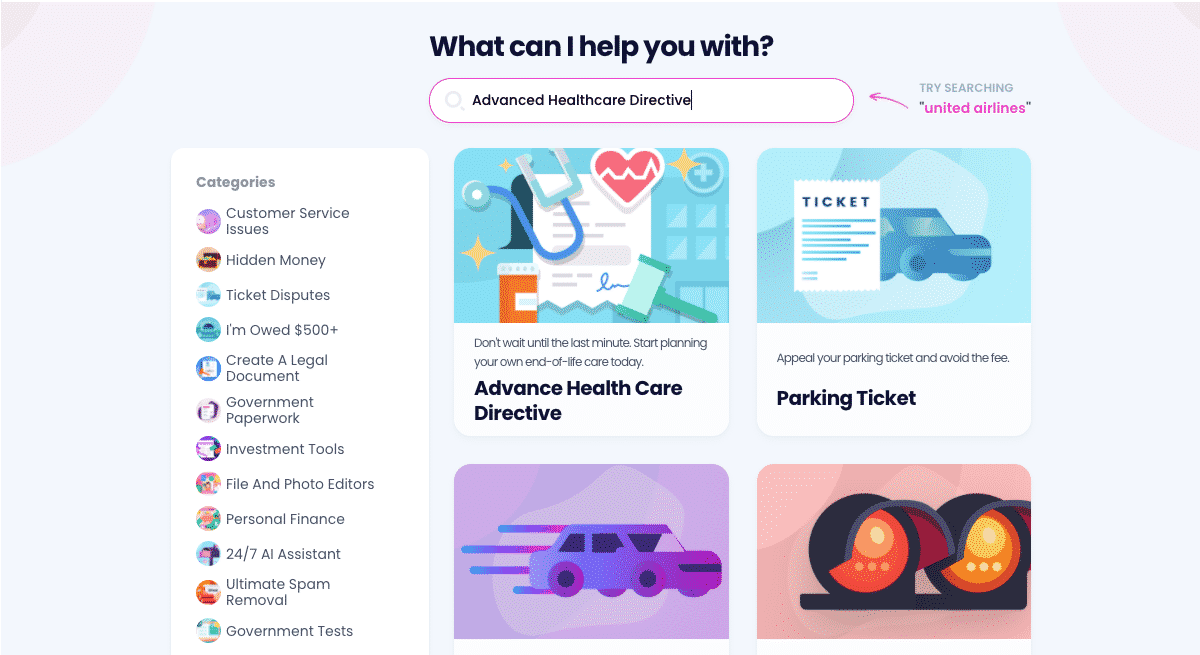 Rely on DoNotPay To Create Your Advance Directive in a Snap
When you're certain about your decisions regarding your medical treatment (or lack of it), it's time to make them official by putting them in writing. The process of creating a living will or any other advance health care directive won't make you break the bank (like hiring a lawyer would) and consists of only a few steps:
Select Advance Health Care Directive
Answer the questions regarding medical procedures you wish to undergo or avoid
Enter the names of your two witnesses (and your health care agent if you choose to have one)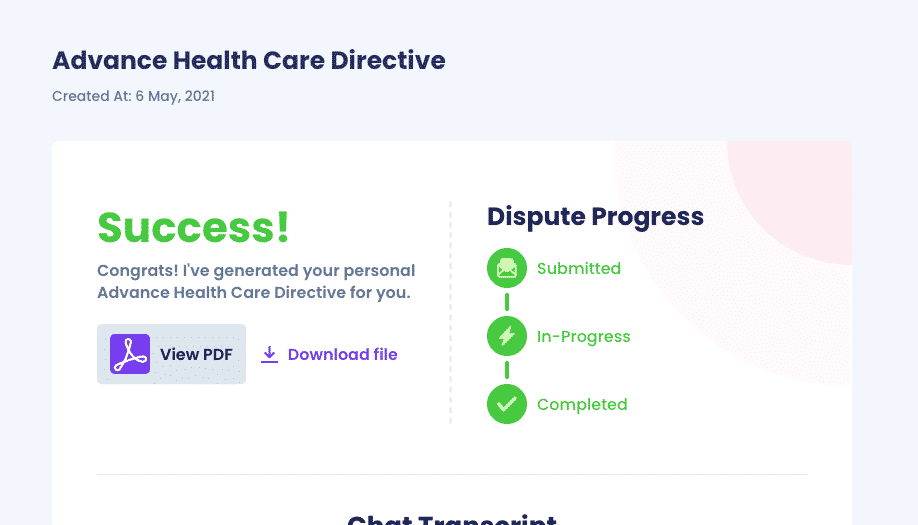 How Can DoNotPay Tackle Tricky Tasks for You?
Using DoNotPay is like having a magic wand that helps you with the assignments you are too busy or bored to do. Here are some procedures we can simplify for you:
Keeping in Touch Is Simple With Our App
Are you having trouble communicating with your loved ones in jail? Our app features a tool that enables you to send letters to inmates from any device! We can help you get in touch with a notary public who can notarize your legal documents virtually or reach out to embassies and consulates or government reps. Reaching customer care centers also gets much simpler with DoNotPay by your side, as you can skip phone queues the easy way.
We can help you avoid unwanted communication by stopping persistent robocalls and text or email spam. All you need to do is sign up for our services!