Advance Directive in California—When and How To Make It
Unfortunate events, such as difficult medical conditions, can happen unexpectedly. The best way to deal with them if they occur and have more peace of mind is to prepare properly. You can achieve this by creating an advance directive in time.
In this article, we'll tell you all you need to know about making an advance directive in California. We'll also explain how you can create this document without trouble if you .
California Advance Health Care Directive—What Is It?
A health care directive enables you to outline your wishes and instructions regarding specific medical procedures (refuse or require certain treatments) for when you lose the ability to make decisions yourself. It is used in situations when you are seriously ill or injured.
In California, this document is also referred to as a personal directive, medical directive, or advance decision.
Health Care Directive in California—What Parts Does It Consist Of?
California advance health care directives consist of four parts. In the following table, you can find more details on each:
Parts
Brief Explanation
Power of attorney for health care

Is used to appoint a health care agent who will make medical decisions in your stead
Allows your agent to make health care decisions for you even while you are still capable of doing so yourself
Goes by other names, including:

Living will

Lets you give specific instructions about any aspect of your health care
Allows you to express your wishes about:

The provision, withdrawal, or withholding of treatment to keep you alive
The provision of pain relief

Organ donation
Allows you to express your wishes about whether you want to donate your organs, tissues, and body parts or not
Designation of a physician
Enables you to appoint a physician who will have the primary responsibility for your medical care
California Medical Power of Attorney and Living Will Explained
In California, you can create both a living will and a medical POA or only one of the documents. When making a living will, you need to be aware of the available forms and the cost of the process.
If you decide to draw up a medical POA in California, you should know who you can appoint as your agent according to state laws. This person cannot be:
Your supervising health care provider
The operator of a facility where you are receiving medical care
An employee of a health care institution where you are receiving care
Make an Advance Directive in California With DoNotPay's Help
You can draw up an advance directive by:
Keep in mind that a lawyer will charge you sky-high fees, while online forms won't be sufficient if you lack legal knowledge. With DoNotPay's help, you will save both time and money and get an airtight legal document. Here is everything you need to do:
Find our Advance Health Care Directive product
Appoint a health care agent and choose the power you want to transfer to them
Enter the relevant medical information (your hospital, doctor, etc.)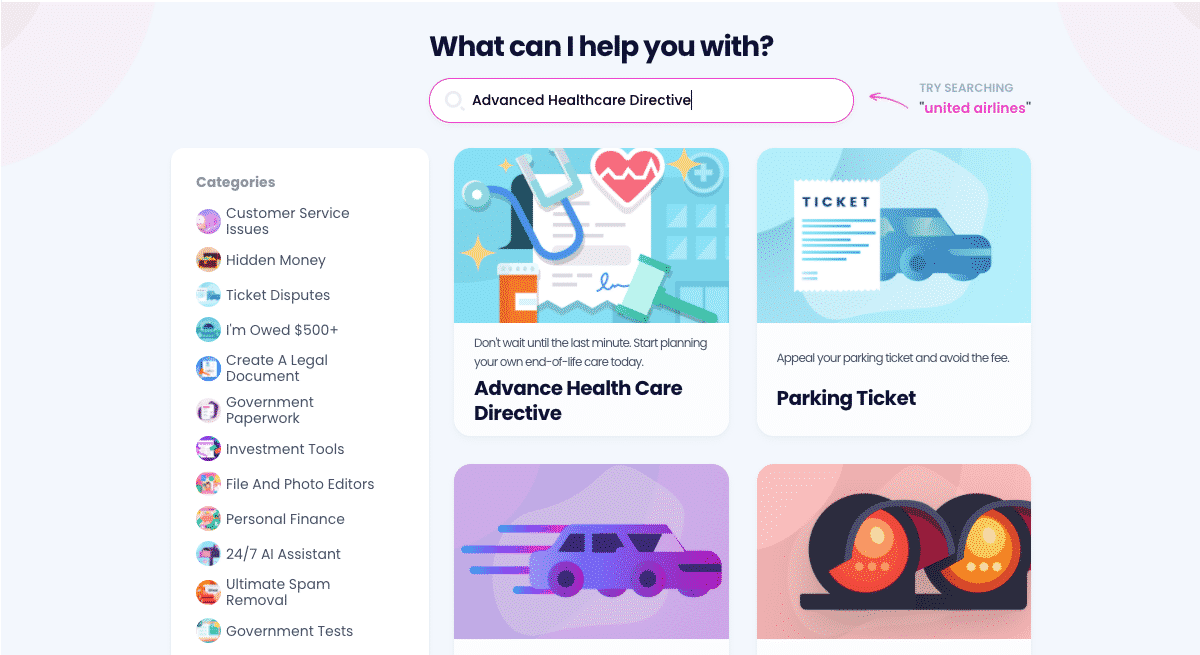 How Do You Make an Advance Directive Valid in California?
The Golden State laws require you to sign your advance directive before a notary public or two adult witnesses. These individuals cannot be:
The operator or an employee of a community care facility you're being treated at
Your health care agent
Related to you by blood, marriage, or adoption
Entitled to any portion of your estate
Skip the Bureaucratic Hurdles With Our Help
If your unfinished tasks are piling up each day, we can help save you time and energy. Let DoNotPay do the heavy lifting and complete the following for you:
In one fell swoop, our app will draft legal documents, fax them online, and get them notarized. In case you need to request a college fee waiver, find unclaimed money, file a FOIA request, or contest parking tickets, you can count on DoNotPay's help.
We Offer Even More Ways To Assist You
Once you sign up for DoNotPay, there aren't many problems that we can't solve for you. Take a look at the table below to get an idea of what we can help you with: