Everything You Need To Know About the Adobe PDF Converter
The Adobe PDF Converter is a free and easy-to-use software solution to convert PDF files to many other formats, including images, text, or HTML. It allows for batch conversion to save time in case you need to convert many PDF files at the same time.
The program interface is simple and familiar to users of Adobe Acrobat Reader. If you're not familiar with Adobe, DoNotPay will guide you through the conversion process. Keep in mind you can also use our File Converter to convert your PDF files. The conversion process is even easier than that of Adobe Acrobat Reader—it requires minimal effort on your part. All you need to do is sign up for our service!
How To Convert PDF files Using the Adobe PDF Converter
With the Adobe PDF converter, you can easily convert one or more PDF files to different file formats, including Microsoft Excel, Word, Excel, and PowerPoint. If you don't have Adobe on your computer, you can download it from the Adobe website. Once you've installed the program, you should follow these steps to convert your PDF files successfully:
Open the PDF file you want to convert in Acrobat
Choose Tools and Export PDF
Select the format to which you want to export your PDF file
Configure the conversion settings by clicking on the gear icon next to the selected file format
Click on Export
Choose a location where you want to save the file in the Export dialog box
Click on Save
By default, the exported file will be saved in the same folder as the source file.
Keep in mind that you can choose between Acrobat Standard DC (for Windows only) and a slightly more expensive Acrobat Pro DC (for Windows and Mac).
What Other Tools Can You Use To Convert Your PDF Files?
If using Adobe to convert your PDF files seems like too much work and you don't want to pay sky-high fees, there are many online converters that will do the job. The most popular ones are listed in the table below:
| Online PDF Converters | Description |
| --- | --- |
| Acrobat Online Converter | You can use this converter to convert Microsoft Word, Excel, and PowerPoint files to PDF for free |
| Smallpdf | Smallpdf is an online file converter that converts PDF files to other formats, such as Word, text, and HTML |
| iLovePDF | iLovePDF is an open-source solution for converting documents to PDF, HTML, DOCX, JPG, PNG, and many other formats |
| Soda PDF | Soda PDF is a quick, simple, and powerful online document converter that turns your documents into readable PDF, Word, or image files quickly |
| Pdf2go | Pdf2go is a free service that allows you to convert your PDF files, Word DOCs, or even XLS spreadsheets to a variety of formats, including JPEG, PNG, TXT, and XML |
Why Using Online PDF Converters May Prove Problematic
There are several reasons why using an online PDF converter may prove problematic. First of all, your security might be at risk. When you use an online converter, your documents are uploaded to the web server. This means that if it has any bugs or security holes (which they often do), these could allow hackers to access your files. If you are handling sensitive information, you should make sure the converter you choose is safe.
Other disadvantages of using online converters are:
Their speed—They are slower compared to most desktop tools, especially if your internet connection is slow
Inability to convert large files
The poor quality of the converted files
Inability to convert multiple files in one go
The risk of downloading malware or viruses together with the converted files
How To Make Sure an Online PDF Converter Is Safe To Use
Even though many PDF converters are safe to use, you should always check if the one you chose is legit and reputable. You can do this by:
Checking if it's been updated recently
Reading the ratings and reviews from previous users
Reading the Privacy Policy carefully to see what sort of information the site will collect
Checking if the site is SSL encrypted (pay attention to the HTTPS in front of its URL)
Use DoNotPay To Convert Your PDF Files in No Time!
Opt for DoNotPay and have your files converted in a matter of seconds for one low monthly fee. There is no limit to the number of files you can convert with our award-winning app.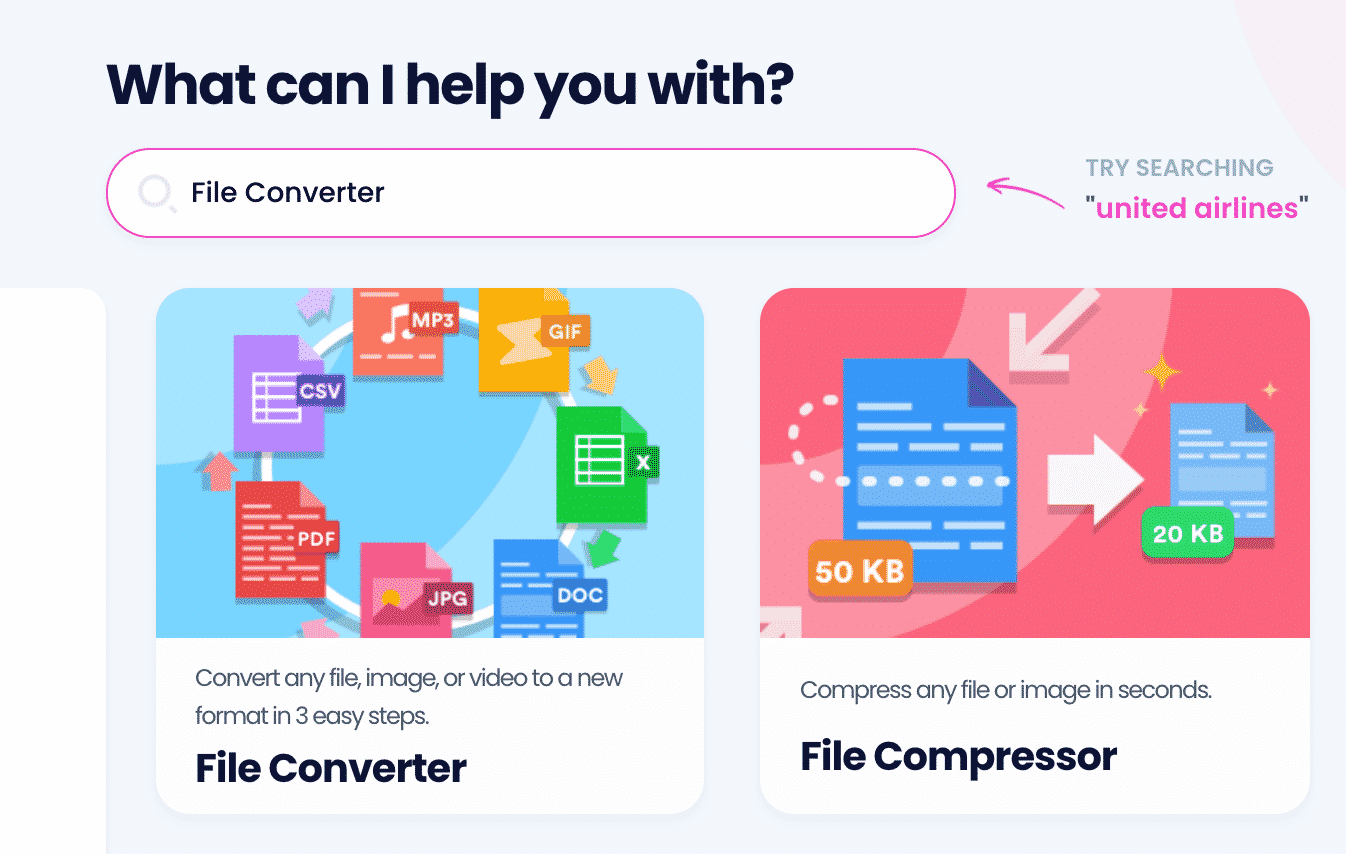 To get started, log in to your DoNotPay account and follow the instructions below:
Open the File Converter product
Upload the file you want to convert
Select the format you want to convert it to
The conversion process is 100% safe, and you can be sure that the quality of the converted files won't disappoint you! To protect your privacy, we will remove your file from our database after 24 hours.
What Other Files Can You Convert Using DoNotPay?
Other than converting files to PDF and vice versa, you can use our File Converter to convert 100+ different file formats. Some of them are listed in the table below:
Hundreds of Useful Features at Your Fingertips
What makes DoNotPay stand out from regular file conversion tools is the array of other features you get access to once you start using our app.
On top of converting hundreds of file types, you can also use DoNotPay to:
Compress your files

so they don't take up too much space
Download videos from social media and the web

Convert all manner of online videos to MP3 files

with a click
DoNotPay isn't just a converter—it's an app designed to make your life easier by automating tedious and complicated tasks. You'll find hundreds of different products inside our award-winning app that will help you save time and money!
Create Legal Documents, Cancel Subscriptions, Appeal Parking Tickets—All With One App!
There's no shortage of tasks DoNotPay can assist you with. For example, the world's first robot lawyer can help you with all manner of legal processes, including:
You can also have DoNotPay handle tedious, time-consuming tasks, like filing complaints, requesting refunds and chargebacks, canceling subscriptions, contesting parking and seatbelt tickets, and fighting email spam for you.
DoNotPay can also save you hundreds of dollars each month by helping you reduce property taxes, lower your bills, and find unclaimed money in your name.