How to Use Adobe Audition Free Trial Without Getting Your Credit Card Charged 

Adobe Audition is a digital workstation for editing and mixing audio developed by Adobe Inc. It also has powerful specialized tools for restoring audio and offers accurate, nondestructive editing of audio in videos. For this reason, it is widely used by vloggers, podcasters, and content creators to achieve high-quality audio in their videos. Its first release was on August 18, 2003, and since then, multiple versions have been developed.
This article covers how you can use  services with DoNotPay, and how the platform can help you avoid getting your credit card charged when using it. 
In this guide, we'll talk about:
Adobe Audition free trial
Ways to avoid getting charged on your own
DoNotPay's virtual credit card
Does Adobe Audition Offer a Free Trial? 
Adobe Audition has a free trial available. The  lasts for seven days, after which the service changes to a paid subscription plan. When using the free trial version of Adobe Audition, you will experience all the features that come with the paid subscription plan. The free trial version is only available on the desktop — not available on mobile.
You are eligible to use Adobe Audition free trial if you are a registered member of Adobe Creative Cloud and have not used the free trial before.
How Can I Get the Adobe Audition 7-Day Free Trial? 
For you to signup for the Adobe 7-days free trial, you just have to follow the procedure below: 
Visit the Adobe Audition website.
Click on the "Free Trial" option.
Select the free trial plan you want. You can now choose the free trial option of Adobe Audition. Alternatively, you can choose to use the whole collection of Adobe products known as Adobe Creative Cloud on a free trial.
On the page that follows, you will see three tabs labeled "Individuals," "Business," and "Students and Teachers." Click on the category that you fit best.
Wait for the page to load, after which you click on the "Start Your Free Trial" button, and that's it. You can now use the product on a free trial.
When you sign up, you will receive emails from Adobe Auditions explaining all you need to know about the product and its free trial.
Does the Adobe Audition Free Trial Automatically Renew Into a Paid Subscription? 
Adobe Audition free trial automatically renews to a paid plan once the 7-day free trial period elapses. Since you provided your credit card information when signing up to its website, you will end up getting charged on the 8th day after signing up for the free trial unless you cancel your subscription before then.
If you had no intentions of using the product after its free trial and it happens that you end up getting charged, you can still get a refund. As long as you cancel the subscription within 14 days from beginning your first free trial, you will get fully refunded. However, after 14 days, you will be charged a monthly subscription to Adobe Audition.
Avoid Automatic Renewal With DoNotPay Virtual Credit Card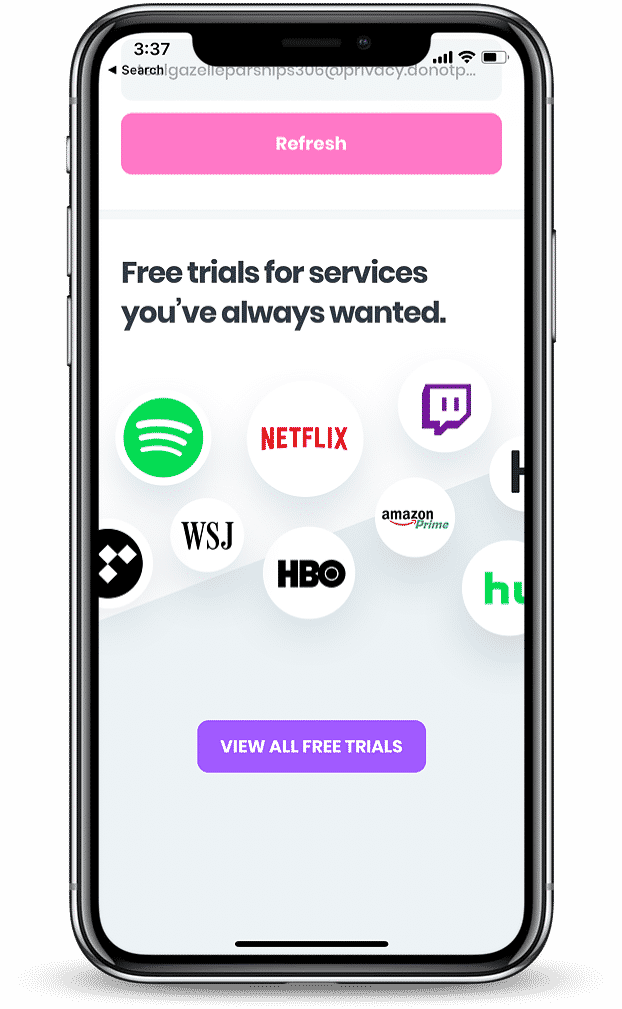 It's common for people to forget to cancel Adobe Audition's free trial. Most people using the product don't cancel their subscription, and as a result, they may pay for the Adobe Audition paid plan without their consent. As such cases are popular and many people have found themselves in this situation, DoNotPay developed a virtual credit card to combat this issue. This virtual credit card of DoNotPay can be used to prevent the automatic renewal of the Adobe Audition free trial into a paid subscription. It can generate a random credit card number and an email address which can be used to sign up for the Adobe Audition free trial. Since it has no connection with your bank account, it cannot process any payments, and so, you become automatically unsubscribed from the service.
How Much Does Adobe Audition Cost After the Trial? 
After the free trial, Adobe Audition is paid on a month-to-month basis for a subscription fee of $31.49. Alternatively, you can choose to pay for Adobe Audition on an annual plan billed monthly at $20.99.
What Are the Most Popular Alternatives to Adobe Audition? 
There are many alternatives you can choose from instead of Adobe Audition. Here are some notable examples:
Application
Subscription Fee
Features
Audacity
Free of charge

A simple user interface
Splitting broadcast WAV files

GarageBand
Free of charge

Very easy to use
Different size mp3's available for export

Logic Pro X
One-time payment of $199.99

It has many good features, including the live music performance.
A simple interface
What Else Can DoNotPay Do? 

By signing up to the DoNotPay website, you can use its virtual credit card to sign up for Microsoft Word, Netflix, and Adobe Premier free trials, among many others.
The other things DoNotPay can assist you with include:
Why wait? Use DoNotPay today and let us help you avoid any unwanted charges while using Adobe Audition on a free trial.