An In-Depth Guide to Adams County, Colorado, Jury Duty
If this is your first time getting selected for jury duty in Adams County, you probably wonder how the process will go. Navigating various jury duty laws can be confusing, but we're here to help.
In this article, we will explain all that you need to know about Adams County, Colorado, jury duty and answer various questions, such as:
Why do you have to serve on a jury?
Who is eligible to serve?
What are jury duty exemptions?
What happens after you receive a summons?
Learn how to use our app to to request jury duty time off swiftly.
Why Do You Have To Serve on a Jury?
Everyone has the right to trial by jury as it gives every citizen a chance to be tried fairly. Jurors get to decide the outcome of a case by:
Understanding the facts
Evaluating the evidence
Making an impartial and fair decision
Who Is Eligible To Serve on a Jury in Adams County, Colorado?
Every year, the Board of Elections uses lists of registered voters in Adams County, and the computer draws the names of prospective jurors at random.
A person is considered eligible to serve on a jury in Colorado if they are:
At least 18 years old
Registered United States citizen
Resident of Adams County
Physically and mentally able to serve
Proficient in understanding and communicating in English
What Are the Exemptions From Jury Duty in Adams County, Colorado?
As opposed to many other states, Colorado only specifies one situation as a statutory exemption:
| Situation | Automatic Exemption? (Yes/No) |
| --- | --- |
| Military personnel | No |
| Students | No |
| Disabled people | No |
| Medical workers | No |
| Breastfeeding mother | Yes |
| Firefighter | No |
| Elderly | No |
| Police officer | No |
| Elected official | No |
If you really need to ask for excusal, you can send an exemption or postponement request letter containing your reason and proof.
You must not skip jury duty without notice or a valid excuse, or you will face various legal repercussions, such as paying a fine or being imprisoned.
What Happens After You Receive a Summons in Adams County, Colorado?
You will go through a selection process, where a number of attorneys will ask you a series of questions about your background, beliefs, prejudices, and relationships with the people involved in the case.
You won't be chosen to serve as a juror if the court deems you too biased to make an impartial judgment.
What Happens if You Pass the Selection?
You will be instructed to return to the court on the day of the trial and must serve for the entirety of the proceeding.
Adams County has three jury terms that last for four months each year. Once you receive a summons, you will need to be available for an entire term. You will not be called again to serve for the rest of the term after completing your service.
Will You Get Paid for Your Jury Service?
In Colorado, employers are obligated to pay employees serving on a jury their full salary for the first three days of service. Starting from the fourth day, the court will pay jurors $50 per day.
If you are serving on a federal court, you will be compensated $50 a day and $60 from the tenth day as a petit juror. Grand jurors will receive $50 a day for the first 45 days of service and $60 every day thereafter.
DoNotPay Helps You Draft a Jury Duty Leave Request Letter in a Few Clicks
Under Colorado laws, you are protected from being fired for missing work during your jury service as long as you notify your employer of your summons in advance.
If you need help writing a letter to request time off for jury duty, our app has got your back. Here's what you need to do:
Locate the Request Jury Duty Leave product
Give us some information about your summons date and workplace
Upload the image of your summons notice and submit the form
In a matter of clicks, you will have a tailor-made letter ready to be sent. You can forward it on your own or through DoNotPay.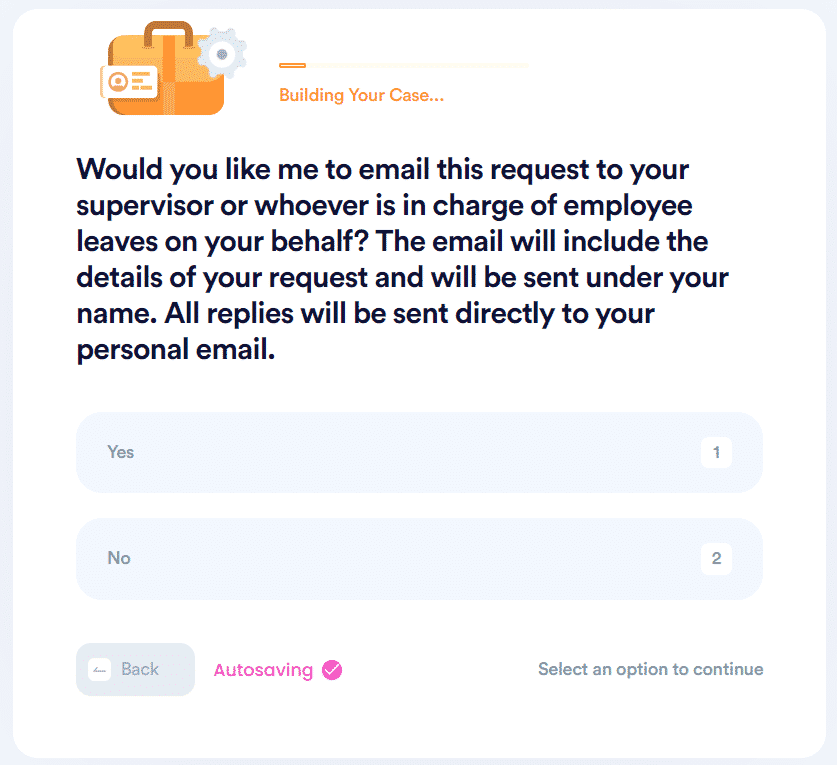 Our App Offers Assistance in More Ways Than One
As a multifaceted app, DoNotPay creates solutions to numerous problems. Check out the table below and get to know a fragment of what our app can do:
| Keep Your Privacy Intact | Deal With Legal Problems | Solve Money Issues |
| --- | --- | --- |
| | | |
Use DoNotPay To Streamline Different Tasks
Tick the items off your to-do list faster by signing up for DoNotPay. In record time, you'll be able to request a refund, cancel a subscription, and get a free trial.
If talking on the phone is your worst nightmare, don't worry—you can use our app to schedule a meeting with an online notary, reach customer service with ease, and make a DMV appointment.
Feel free to also rely on our app when you want to prep for government tests, file FOIA requests, or connect with loved ones in prison.