Sign Up for Acuvue Free Trial With a Virtual Credit Card

We all love free stuff, and free contacts sound pretty enticing. But sometimes, we forget to cancel before the trial period is up, and we end up getting charged for a service or product that we don't need. DoNotPay makes it possible to sign up for the  and never worry about your credit or debit card being charged.
Free trials are a way for companies to get you to try their product. Even though the trial period is free, you must give up your credit card information before the trial can begin. They count on you being too busy or too forgetful and not canceling before the trial ends. Your credit card gets charged, and your subscription begins.
What if there is a way to take advantage of a free trial and never get charged even if you forget to cancel? Well, there is. DoNotPay can issue a virtual credit card that you can use for the one-time purpose of obtaining the free trial, and the card cannot be used for any charges when the trial period is over.
How Can I Get an Acuvue Free Trial?
The  operates a little differently than most free trials. You go to the Acuvue website and fill out your information:
Your contact info: name and email address
Age
Your experience with contact lenses.
Upon completion of the online form, you will be given a coupon for free lenses, which you must take to your eye doctor, or you can choose a doctor from their list of Preferred Practices. You take the coupon with you to your appointment for your free contacts. Keep in mind that you will have to pay for your eye exam and fitting fees.
The Acuvue free trial works a bit differently than most free trials because you do not need to give up your credit card info until you see the doctor. If you decided to purchase additional lenses, you will need to use your credit card for purchases. Acuvue does have a subscription service that you can take advantage of through your eye doctor. After you have been properly examined and fitted, you can order an annual supply through that office, and your lenses will be shipped directly from the manufacturer.
What Is the Average Cost of Acuvue Contact Lenses?
The cost of lenses varies, depending on the type and the prescription. If you have vision insurance, most times, your exam and fitting are covered, and some material costs for the contacts. You will probably be charged a copay depending on your coverage. There are different types of lenses, daily or monthly use, and the cost to the patient can range from $140 to $600 annually. Check with your insurance provider to determine the best plan and coverage for you.
How Can I Get Free Trial and Avoid Getting Charged on My Own? 
It is easier to forget to cancel your free trial and end up paying for a subscription service you don't enjoy. Here are a few ways you can cancel a free trial and avoid getting charged:
Cancel payment once you sign up for the free trial.
If you cancel a free trial after signing up, you will still use it for the entire trial period without getting charged. It is one of the best and easiest ways to ensure you don't get billed.

However, remember that not all free trials operate in the same manner. Some services will stop your trial immediately you unsubscribe, e.g., Hulu and Apple Music.

Set a reminder a few days before your trial period ends.
Don't wait until your free trial ends to cancel your subscription. That's because you may take forever to find instructions on how to unsubscribe, and this could push you past your deadline.

Another reason why you shouldn't wait till the last minute is that most services will still charge you if you cancel less than 24 hrs before your free trial period ends.

Go virtual.
If you signed up with a free virtual credit card and forgot to cancel your subscription before your trial period ended, you can never get charged.

DoNotPay's Virtual Credit Card works by generating temporary credit cards that expire when you please. Some advantages of virtual credit cards include:

Reducing costs
Increasing security
Managing cash flow better
More convenient than physical credit cards
Protecting you from fraudulent activities
Helping you manage subscriptions

Speak with Customer Support.
Do not disregard how powerful personal appeal can be. If you thought you canceled your subscription before your free trial ended or your request was unsuccessful, you can contact Customer Support to help you out. Just ensure you remain humble and courteous in your request.
How to Avoid Being Charged for Free Trials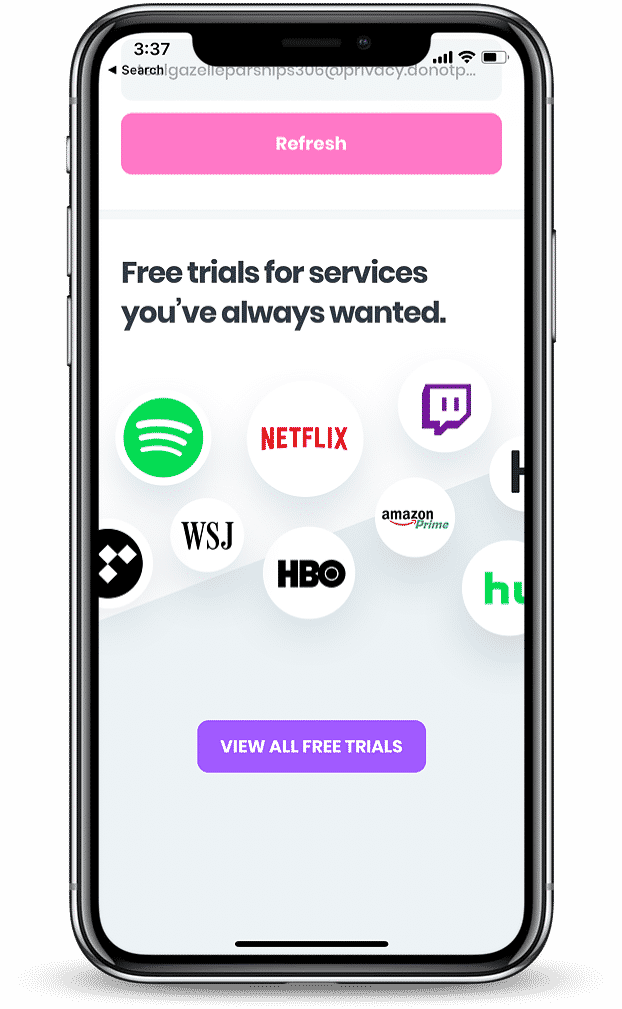 Any time you are asked to give credit card information to take advantage of free trials, DoNotPay can help.
DoNotPay generates a random number and credit card information that you can use to subscribe to any service.
Use the credit card when setting up your free trial for verification.
When the service ends, you will be unsubscribed automatically since there is no money on the card.
This virtual credit card works for verification purposes only. It can not be used for purchases and is deactivated after the first use.
How Can I Get DoNotPay to Help?
DoNotPay can help you with your free trials in just three easy and fast steps.
Search free trial card on DoNotPay and enter the company you want a free trial for.
We'll automatically generate a virtual credit card that you can use for that merchant. Copy the card details shown on your screen.
Use the card to sign up for your free trial and sit back to relax and enjoy.
You do not have to give up any of your personal credit card information, and you will never be charged.
What Else Can DoNotPay Do?

DoNotPay can help you with many of the problems you run across every day. From the simple to the complex, DoNotPay offers quick and easy solutions and works to find the best possible solutions to your case. We can help with other issues such as:
Disputing traffic tickets
Fighting speeding tickets
Let DoNotPay save you time and money today.