Get An ActiveCampaign Free Trial With A Virtual Credit Card

Building customer relationships is key to running a successful business, and ActiveCampaign helps you do just that. ActiveCampaign offers email marketing, marketing automation, and CRM tools to ensure your customers feel connected to your business. For business owners, the  can be the difference between spending countless hours working on client follow-up or adding automation to help them have some downtime.
To sweeten the ActiveCampaign free trial deal, DoNotPay can help ensure you are not charged automatically once the trial ends. Using DoNotPay's virtual credit card service, you can sign up for free trials for any service without providing your credit card info. A free virtual credit card lets you relax and try out services for free without the extra stress of remembering to cancel to avoid unwanted payments.
Is There an ActiveCampaign Free Trial Available? 
Yes, you can try an  for 14 days. During the trial period, you'll get to try out the email marketing tools ActiveCampaign offers to see if it's the right fit for your business. Automating your business and engaging with your customers is simple with ActiveCampaign.
Do I Need to Provide a Credit Card for a Free Trial of ActiveCampaign? 
No, a credit card is not required to start an . Therefore, you can try out ActiveCampaign risk-free during the trial period without the worry of getting charged automatically on the 15th day.
Step-By-Step Instructions for Getting an ActiveCampaign Free Trial
Go to their website.
Provide your email address to start the ActiveCampaign account creation process.
Add your business name and create a password.
Choose the number of contacts you'll have.
Start exploring how ActiveCampaign can help with your email marketing needs.
Does the ActiveCampaign Free Trial Give Full Product Access? 
While the 14-day free trial of ActiveCampaign allows you to test the platform with similar features found in ActiveCampaign's Professional plan, the trial does not allow the same access as paid subscriptions.
Active Campaign Free Trial Limits
Limited to 100 contacts
Limited to 100 email sends
Does not allow predictive sending
You cannot send auto-responder campaigns
You cannot create custom form fields
Email Results are not available in subscription forms
You cannot access SMS credits
What Is the Cost to Use ActiveCampaign After a Free Trial? 
If you're a B2C, B2B, or eCommerce business thinking about trying an ActiveCampaign free trial, one question you probably have is how much ActiveCampaign costs after the free trial ends. While the expense for each plan varies by the number of contacts you have, we've broken down each plan type based on 2,500 contacts. If your email list is smaller or larger than that, you can expect your total expense to be a little less or a little more.
Subscription Plan
Subscription Fee
Lite
Billed Monthly: $61 per month

Billed Yearly: $49 per month

Plus
Billed Monthly: $125 per month

Billed Yearly: $99 per month

Professional
Billed Monthly: $187 per month

Billed Yearly: $149 per month

Enterprise
Billed Monthly: $323 per month

Billed Yearly: $259 per month
DoNotPay's Virtual Credit Card Saves You From Getting Charged for Free Trials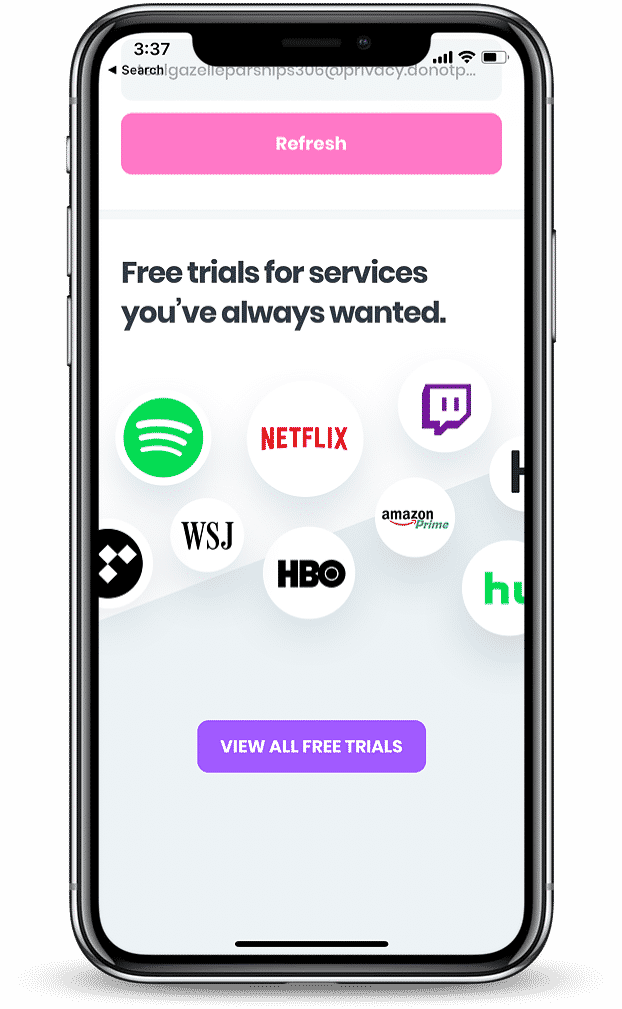 Although ActiveCampaign does not require a payment method before starting a free trial, many companies do. Therefore, DoNotPay lets you experience all free trials risk-free with our Virtual Credit Cards. Since most people forget to cancel free trials requiring credit card info upfront, they get hit with monthly or yearly charges for services they won't use. DoNotPay's Virtual Credit Card service saves you from getting unwanted payments after your free trial expires by providing a one-time-use number and credit card information that is deactivated once used to start a free trial.
In three simple steps, you'll get to experience free trials for any company without the hassle and stress of giving out your credit card info or receiving charges if you forget to cancel.
Search free trial card on DoNotPay and enter the company you want a free trial for.
We'll automatically generate a virtual credit card that you can use for that merchant. Copy the card details shown on your screen.
Use the card to sign up for your free trial and sit back to relax and enjoy!
While some companies, including ActiveCampaign, do not require a credit card to try out the free trial, for those that do, DoNotPay has you covered.  to learn how our free virtual credit cards can make signing up for free trials simple and worry-free. 
Interested in an ActiveCampaign Free Trial? Try These Popular Alternatives 
If you're a B2C or B2B company searching for email marketing software, you probably want to explore a few options rather than just settling for the first one that pops up in your search results. Starting a risk-free trial of ActiveCampaign is just one of the many email marketing and CRM tools with free tryouts available. 
Provides a free plan for up to 2,000 contacts
Four plan options: Free, Essentials, Standard, and Premium
Offers a 60-day free trial
Two plan options: Email and Email Plus
30-day free trial available.
Four plan options: Starter, Essential, Advanced, eCommerce
Offers a free plan option up to 500 contacts
Pay as you grow option based on the number of contacts you have.
Free account for up to 500 contacts.
Four plan options: Free, Basic, Plus, Professional
DoNotPay Helps Businesses and Individuals Solve Almost Every Problem 

While we can help business owners take control of their marketing automation by getting a trial of ActiveCampaign, DoNotPay can help with many other problems and concerns too.