How To File an
Accident Insurance
Claim and Get Your Money
If you or your family members had an accident covered by your insurance policy, the best thing you can do is file an accident insurance claim. Since most companies make their insurance claim process too complicated to handle, DoNotPay has come up with a solution. We can help you file an accident, life, unemployment, or any other type of insurance claim in under five minutes!
What Is Accident Insurance
?
Accident insurance is created to take care of the costs caused by accidents covered by an insurance policy. One visit to the emergency room can cost up to $3,000, which is super expensive. That's why many people decide to invest in accident insurance. 
This type of policy can be a nice addition to your health insurance. In case your health insurance doesn't cover all medical expenses related to your accident, this policy will. Companies offer different types of accident insurance policies. Some of the most popular ones are:
Emergency care 

Specific injury care

Family accident insurance

Accidental death

Supportive care
What Does Accident Insurance Cover
?
While each company has different accident insurance policies, most of them cover basic expenses, such as:
Hospital stays

Lodging

Emergency treatment

Supplies

Medical exams

Final expenses
You can file an insurance claim only if your policy covers the accident in question. For example, if you injure yourself playing football but your policy covers only car accidents, the insurance company won't accept the claim.
Best Accident Insurance
Companies
If you're interested in purchasing accident insurance, you can consult the following table of best insurance companies to make an informed decision:
Company Name
Pros
Cons

Combined Insurance Company of America

You can choose from four types of insurance coverage:

Family

Individual

Individual and children

Individual and spouse

Quotes available online

The policy is valid 24/7

Insurance purchase is possible only by contacting an agent

Quotes available online

The basic plan is super affordable

You don't have to undergo a medical exam

The insurance isn't available in all states

The policy doesn't cover accidental death and dismemberment 

Accidental death and dismemberment benefits are covered

You'll get a designated representative who will help you with the claim

The policy covers emergency dental procedures

The accident insurance policy isn't available in all American states

Policyholders can enjoy live chat support

Insurance coverage can be bought online

You don't have to pay a deductible

Coverage isn't available in all states

Quotes available on the website

You can purchase the policy in under two minutes

Chat support is available 

The policy doesn't cover work accidents

The insurance isn't available in all states
What Happens When I File an Accident Insurance Claim?
Most companies will issue compensation within a few days of approving your claim. Some of them will cover the expenses the same day you go to the hospital. Benefits will be paid to you directly so that you can choose how to spend the compensation.
Each time you file an insurance claim, your monthly premium rate will become higher. That's why most policyholders choose not to call their insurance company for a minor accident that doesn't cost a lot.
How To File a
Personal Accident Insurance
Claim With DoNotPay
DoNotPay will help you file an accident insurance claim and get the benefits you need. Our user-friendly platform enables you to file a claim for any type of insurance, including:
Vehicle insurance

—In case you need to take care of a car accident damage or need a

car rental

 

Purchased item insurance

—For companies that offer coverage for lost, stolen, or damaged products, such as

Sprint

,

Boost Mobile

, etc.
To enjoy the benefits of our service, log in to your DoNotPay account and do the following:
Look for the insurance type in question

Provide us with the required info

Describe the incident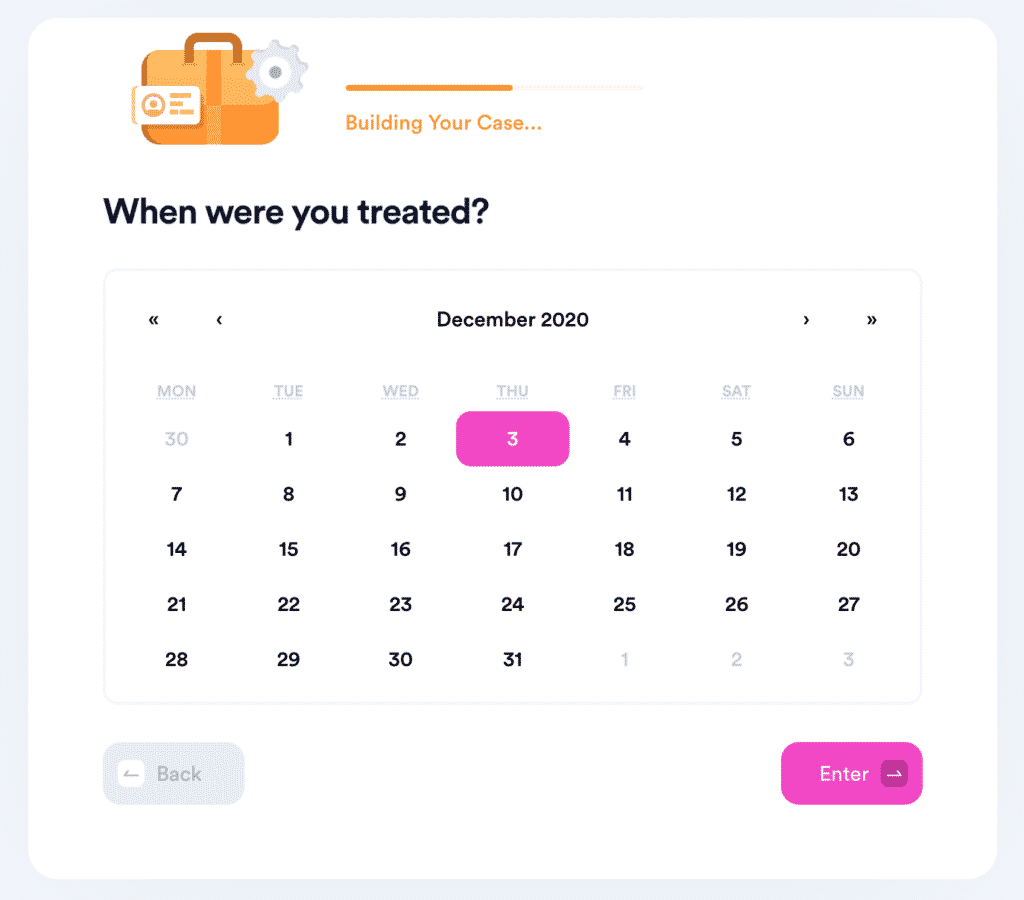 We will file the claim for you as soon as you hit the Submit button. Should the company in question have more questions regarding your claim, they will contact you directly. DoNotPay will help you handle insurance claims with any company, including:
Other Ways To File an
Individual Accident Insurance
Claim
While every company works differently, most of them allow the policyholders to file an insurance claim online. Many firms also have dedicated customer support agents that will guide you through the insurance claim process. 
Filing a claim via mail or email isn't common, but it might be possible depending on the company. The USPS allows policyholders to request and send an insurance claim form via mail. 
Has Your Accident Insurance Claim Been Rejected? Don't Despair, DoNotPay Is Here!
Besides offering a super useful service that helps you file an insurance claim in no time, DoNotPay can also help you with rejected claims. Our other feature—Appeal Denied Insurance Claim—allows you to send an appeal letter in under two minutes:
Sign in to your

DoNotPay

account

Search for the type of insurance you want to claim

Select the

Appeal Denied Insurance Claim

option
DoNotPay Can Do Your Paperwork for You! 
Feeling like you're in bureaucratic hell? Our app will draft the paperwork you need and get you out of any hurdle before you know it! 
We can compose most of the documents that you require for any administrative purpose in your jurisdiction, most notably:
More of What We Can Do for You 
Our multifaceted app can call and record the conversation with the customer service of the company that just won't let you go! If you are having trouble canceling an unwanted service via the traditional channels, use DoNotPay to get it over and done with!
We can help you stop the persistent robocalls and robo texts from the nagging company and request a refund for unused services in a matter of minutes.
We'll also lend a helping hand in stopping spam mail—whether it's electronic or paper. Our Spam Collector product unsubscribes you from unwanted emails and cleans up your physical mailbox too!