Understanding Acceptance Insurance Claims
Acceptance is a Tennessee-based auto insurance company that specializes in providing high-risk or SR-22 insurance policies.
Filing an insurance claim with this company may be challenging. Better Business Bureau (BBB) reviews state that the company's agents tend to be rude and ignore the clients' calls.
If you want to find out how to simplify the procedure and claim your insurance the easy way with DoNotPay, this guide will answer all your questions. Even if your claim gets denied, our app can save the day by filing an appeal in your name!
What Types of Insurance Does Acceptance Provide?
Apart from auto and motorcycle insurance, Acceptance offers seven more coverages. You can check out coverage details for all categories in the table below:
Insurance Type
What Does It Cover

Auto

Liability

Collision

Personal injury

Bodily injury liability

Roadside assistance

Comprehensive insurance

Medical payments insurance

Uninsured or underinsured motorist

Motorcycle

Liability

Collision

Property damage liability

Comprehensive insurance

Multi-policies for multiple bikes

Uninsured or underinsured motorist

Medical payments, no-fault, and personal injury protection (PIP)

Liability

Guest medical

Personal property

Identity restoration

Reimbursed living expenses

Scheduled personal property

Homeowners

HO-1—damage caused by 11 types of natural disasters

HO-2—damage due to falling objects or

water exposure

HO-3—perils

HO-4—property in rented homes and damaged or stolen personal belongings

HO-5—personal property damaged due to any incident

HO-6—condos and co-ops

HO-7—mobile homes

HO-8—older homes that need repairs with costs exceeding the object value

Commercial

Surety bonds

Inland marine

Property insurance

Commercial vehicle

Workers' compensation

Business owner's policy

General liability insurance

Commercial liability umbrella

Professional liability insurance

Pet

Endorsements

Accident-only plans

Accident and illness plans

Insurance with embedded wellness

Life

Mexico tourist auto insurance

TeleMed

TeleMed Plus

TeleMed Standard
Use DoNotPay's Tricks To Claim Your Acceptance Insurance Fast
People usually give up on filing claims when they realize how burdensome and stressful the claiming procedures can be.
To avoid experiencing unpleasant situations, use DoNotPay—the quickest and simplest method of raising your insurance claim with no fuss. Not only will we do our best to tackle the Acceptance insurance issues, but we will help you deal with other types of policies as well, such as: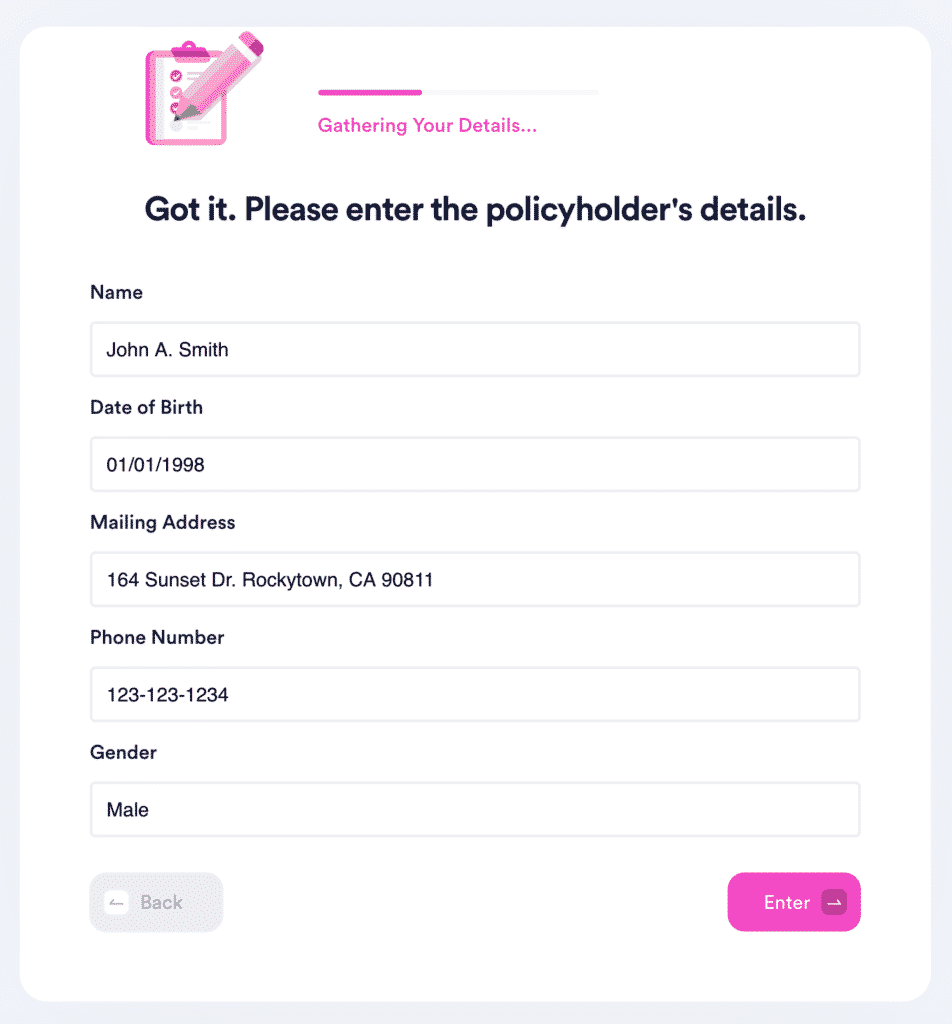 To use our service for claiming your insurance, follow these steps:
Log in to DoNotPay using your preferred

Search for

Acceptance insurance

Provide personal information and insurance-related details

Give us a thorough explanation of the issue you have experienced
We will collect all the necessary details and file a claim in your stead. Acceptance should give you a call or send you an email to hear more from you shortly.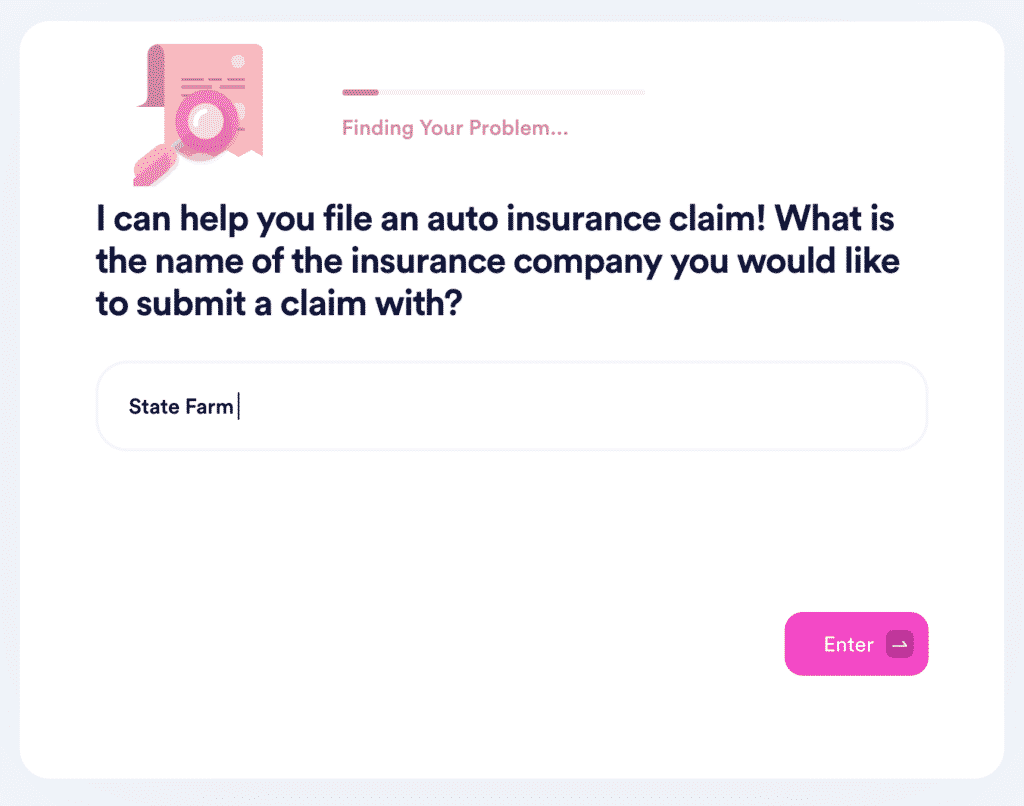 Filing a Claim Appeal Isn't a Problem Anymore
Apart from providing unsatisfactory customer service, the company commonly rejects customers' insurance claims. If Acceptance denies your first Acceptance insurance claim, it doesn't have to be the end of the case. You can file an appeal using our app without dealing with bureaucracy or contacting rude representatives.
To send an insurance appeal letter with our help, follow these steps:
Open DoNotPay in your

Search for the insurance in question

Tap on

Appeal a Denied Acceptance Claim

Provide more information and send your request
The company will receive your details and reassess your situation. They have to reach out to let you know if your request was successful soon after.
How To File Acceptance Auto Insurance Claims by Yourself
Apart from claiming your insurance with DoNotPay, you can use regular but more complicated procedures. Below is the table that shows the available claiming methods:
| | |
| --- | --- |
| Can You Claim Your Insurance Via | Yes/No |
| DoNotPay | Yes |
| Email | Yes |
| Phone | Yes |
| In Person | No |
| Online | Yes |
| Chat | No |
Phone Claims
To file a phone claim, dial (800) 799-2103 and tell the agent you want to claim your insurance. Bearing in mind the customer care issues, if they don't answer your call, use some other method.
Email Claims
Email correspondence can be time-wasting since you usually need to wait a few days to receive a response. If you want to try this option, send an email to newclaims@acceptanceinsurance.com describing the accident in detail. Make sure you attach the photos of the damage or any other piece of evidence you have.
Online Claims
The company provides the possibility of online claim form submission too. Here's how you can do it:
Visit the official Acceptance website

Click on the

Claim

tab

Confirm that you are an insurance policyholder and enter your policy number

Answer the chatbot questions and send your claim
The Acceptance agents should contact you within two days.
How Long Does It Take Acceptance To Process a Claim?
The claim processing time depends on many factors, such as the incident details, case complexity, or the company's current workload.
What Happens After You File a Claim With Acceptance?
Here's what happens next once you submit your claim:
Damage assessment

—The Acceptance insurance claims department will try to estimate the loss you experienced, considering the injuries and property conditions. You should get in touch with an appraiser who will come and inspect your car if necessary

Repair place choice

—Pick the repair shop where you want to have your vehicle repaired. Acceptance recommends taking your car to one of their preferred partners' places for a better service

Repair appointment

—You have to provide the chosen dealership or repair shop staff with a copy of your estimate and let them order new vehicle parts to start fixing the problems
Our Robot Lawyer Gets Rid of All Admin Tasks
What makes DoNotPay so unique is that it helps you get back what is rightfully yours in many different ways. You can appeal parking tickets, find unclaimed money, demand a refund for canceled or delayed flights, get help with bills you cannot pay, or get your college application fees waived with the help of our platform.
If you're sick and tired of annoying robocalls, spam emails, copyright violations, text message spam, or stalkers and harassers, DoNotPay can assist you in getting rid of them once and for all.
DoNotPay Can Help You Save Money
Have you ever subscribed to a service's free trial you forgot about after a few days? Many Americans have, which is why DoNotPay has a free trial feature that will help you avoid getting charged once the trial is over.
If you want us to scan all your active memberships and help you not pay for the ones you don't use, connect your email address or credit card to DoNotPay. Our cancel feature will ensure that you don't waste your money on subscriptions you don't even remember exist.
If a merchant charges you once the free trial is over, though, you can use our robot lawyer to request a refund and skip the phone queue when doing so.
In case a company refuses to grant you a refund, you can also use our app to sue them in small claims court.