What is an AB Living Trust?
If you are looking to establish a trust with your spouse, an A-B trust may be the right option for you to manage your joint or individual assets. You might associate trusts with the rich, but anyone can make a trust no matter what their income or property value. Keep reading this article to learn more about A-B trusts, living trusts, and how DoNotPay can help you through the trust-making process. 
What Exactly is a Trust?
Before choosing to establish any trusts, it is important to understand what a trust is and how it can help you. A trust is a legal agreement intended to help you manage your assets in different stages of life. One beneficial form of trust is a living trust, also known as a revocable trust, which can cover asset management throughout your life and after your death. No matter what kind of trust you are establishing, some common terms to know are:
Grantor: the person who establishes and places their assets into the trust 

Trustee: the individual or entity designated to manage the trust

Beneficiaries: designated individuals who will receive assets from the trust
To learn more about trusts, keep reading below. 
What is an A-B Living Trust?
A living trust is another kind of trust that can help you manage your estate. You can place your assets into a living trust, where they will be managed throughout your lifetime as well as after your death. Your chosen trustee will manage your trust according to your outlined wishes, letting you know that your property is being handled responsibly. If you want to make a living revocable trust with your spouse, you can make your own joint revocable trust or A-B trust.
If you and your spouse are looking into estate management options, you may be interested in creating your own A-B trust. An A-B trust is a joint trust that can be established by spouses, which after the death of one spouse will divide into two trusts. One trust, the A trust, is for the surviving spouse, while the B trust is the deceased spouse's trust. The main benefit of an A-B trust is potentially avoiding estate taxes that usually come with the death of a spouse. To read more about different types of trusts, continue scrolling.
Irrevocable versus Revocable Trusts
The two most common kinds of trust are called revocable and irrevocable trusts. To understand the terms of each kind of trust, you can read the table below. 
| | |
| --- | --- |
| Irrevocable Trust | Revocable Trust |
| Difficult to change once your trust is established | Easily adjusted after your trust is first established |
| Firmly establish your beneficiaries and management terms without adjustment | Allows your beneficiaries, assets, and terms be changed flexibly throughout your life |
A revocable trust is preferable to an irrevocable trust, as it allows for you to have greater flexibility if you need to change any of your trust terms as life goes on. You can learn more about the differences between trust types here. 
How to Set Up Your Living Trust
If you want to establish your own living revocable trust to manage your estate, you can do it a number of different ways. You can start making your living trust using:
A lawyer

An online template

DoNotPay
You can hire a lawyer to help you make your trust, but they can be expensive and time consuming. However, making your living trust yourself is not advisable given how important this legal agreement is. Luckily, DoNotPay can help you create your own living revocable trust without any unnecessary fees, so you can have your trust made quickly and easily. 
More Information on Trusts
If you are still looking to learn more about trusts and how you can make your own living revocable trust, you can find out everything you need to know in our articles below:
Create Your Own Living Trust with DoNotPay
Establishing your living trust with DoNotPay can make your process quick and easy, saving you time and money. To create your living revocable trust, all you need to do is:
Sign-in to

DoNotPay

and click on the revocable living trust product

Tell us the state you live in
Assign your trustees and beneficiaries
Distribute your assets and properties
That's it! After you're done, DoNotPay will create a living trust for you. It will be ready for download in minutes!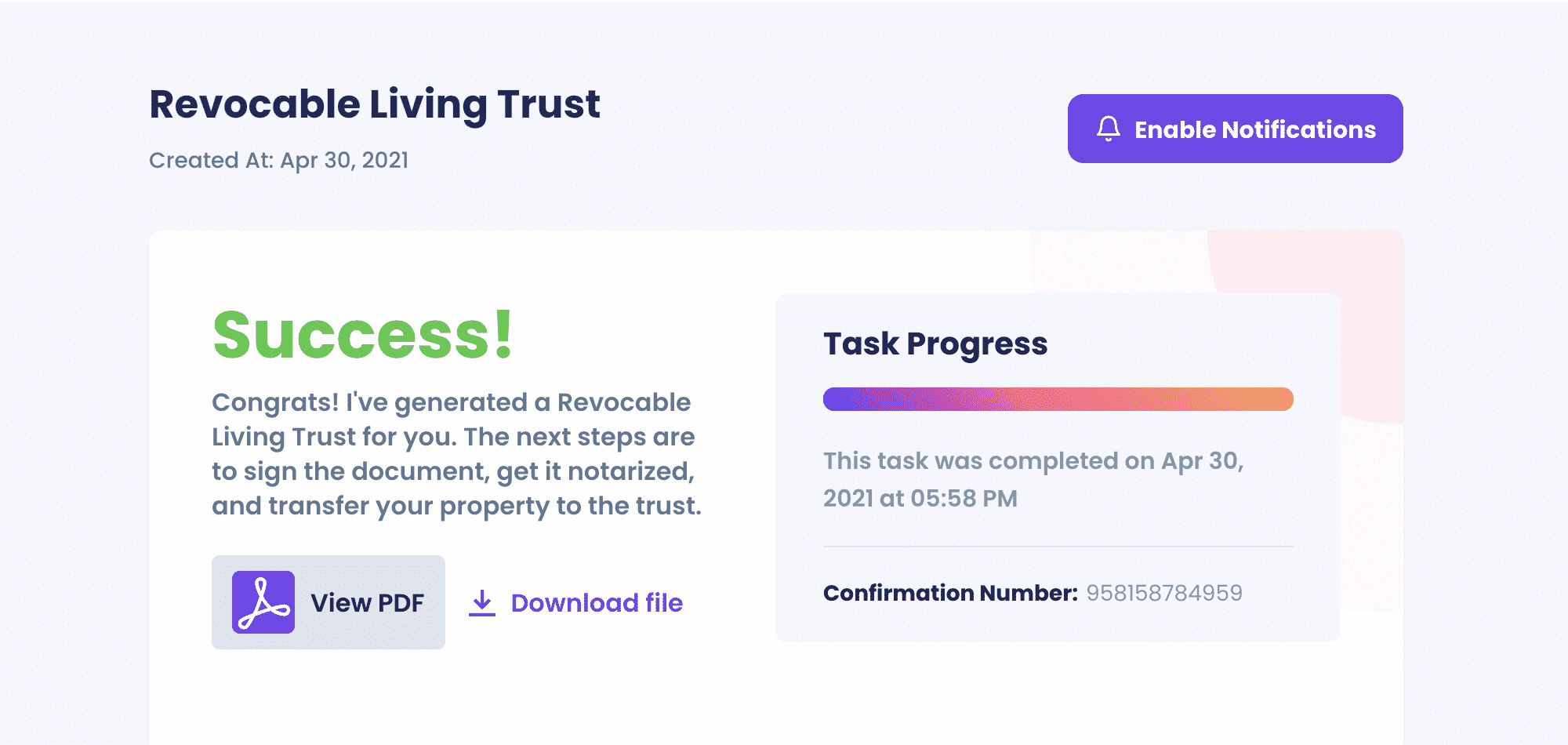 Living Trusts by State:
DoNotPay Does More For You