Learn How a Company Can Be Sued for Discrimination if It Treats You Differently
Workplace discrimination is still a widespread phenomenon in the U.S., but the discrimination cases that are reported may only be the tip of the iceberg.
Part of the problem may be that employees do not recognize examples of discrimination when they occur.
DoNotPay can help by showing you how a company can be sued for discrimination if it treats you badly.
What Is Discrimination?
The cornerstone of anti-discrimination law in the workplace is Title VII of the Civil Rights Act of 1964. This law defines discrimination as treating someone differently due to their:
Since the Civil Rights Act became law, many notable test cases have solidified its meaning and clarified how it should be applied in the real world.
What Are Typical Ways a Company Can Discriminate?
There are several types of discrimination, all of which are illegal. The types are as follows:
Type of Discrimination
Explanation
De jure discrimination
De jure discrimination is deliberate and involves company policies or procedures that aim to treat individuals or groups differently. Examples of this could be:

Explicitly recruiting from a certain group to the exclusion of others
Enforcing binary or gender-specific dress codes for employees

De facto discrimination
This is more passive discrimination and often occurs despite company anti-discrimination policies. De facto discrimination is mostly a result of managers or supervisors applying their own interpretations to work practices, such as:

Using stereotypes to screen job applicants
Allowing glass ceilings to limit career progression
Employing disabled people but failing to provide access to all areas of the business

While the company may not condone discriminatory actions by its managers, several discrimination cases have proved that the organization is liable for how its supervisors behave

Harassment
Harassment can range from seemingly innocuous banter to overt bullying and is usually seen as:
Wage discrimination
The Equal Pay Act of 1963 makes it illegal to pay employees differently for doing the same work
Retaliation
If an employee complains about discrimination at work, the employer is not allowed to retaliate against them in any way. Examples of retaliation could be:

Sidelining
Demotion
Reallocation of responsibilities
Reduction in pay or benefits
Termination
All of the above acts are illegal but, unfortunately, still widespread in U.S. companies.
When Can I Sue My Employer for Discrimination?
If you are experiencing any of the above situations at work, you may have grounds to sue your employer.
This being said, you should bear in mind that you:
Carry the burden of proof
Need permission to sue
Burden of Proof
If you decide to launch legal action against your employer, a discrimination lawyer will tell you that you will need to provide enough evidence to prove your allegations.
To gather your evidence, you need to do your homework, meaning you should:
Keep a diary recording every incident of discrimination and noting dates, people involved, exact details of what happened, and names of witnesses
Make sure you lodge official grievances with your HR department to prove that you have made attempts to rectify the problem internally
Permission To Sue
You can't go ahead and commence legal action without first lodging a complaint with the Equal Employment Opportunities Commission (EEOC).
The EEOC enforces federal anti-discrimination laws and oversees every company of 15 employees or more in the U.S.
If your employer commits an act of discrimination of any kind, you can file a complaint against them with the EEOC. Your complaint—known as a charge of discrimination—starts a process in which the EEOC will:
Inform your employer of your charge
Investigate your allegations and your employer's counter-arguments
Decide whether there is a case to answer
If you have provided enough evidence that your employer has discriminated against you, the EEOC will decide that further action is necessary. In this case, the commission may:
Try to mediate an out-of-court settlement between you and your employer
Open a lawsuit against your employer
Give you permission to sue
The first step—filing your complaint—can be complex and drawn-out, as the EEOC often wants you to attend an in-person interview to discuss your case. Thankfully, DoNotPay is here to make things easier—we can get your charge of discrimination filed online in a flash!
Using DoNotPay To File Your EEOC Charge of Discrimination
DoNotPay specializes in making complex legal matters easy, and filing a charge of discrimination with the EEOC is no exception!
You can use our service to file your charge in a few clicks—here's what you need to do:
Sign up with DoNotPay in your web browser
Search for our Fight Workplace Discrimination feature
Fill in the details of your case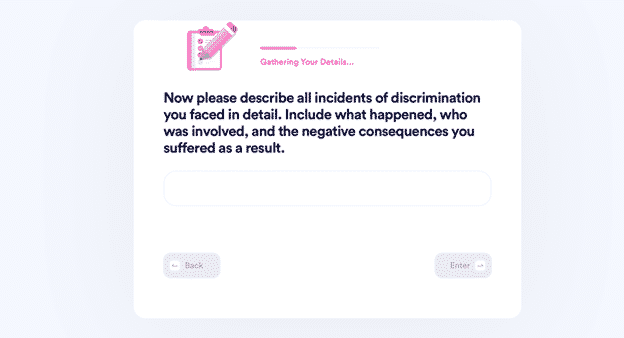 That's all you need to do! DoNotPay will forward your charge to the nearest EEOC field office, and a case officer will walk you through the next steps!
DoNotPay's Other Resources for the Victims of Discrimination
Fighting discriminatory bosses and colleagues is not the only item on DoNotPay's agenda. If your EEOC report doesn't work out, explore the option of suing the perpetrator in small claims court with our help.
Those who experience full-blown hate crimes can use our platform to file for crime victims compensation or deal with insurance claims. Lost a job because of discrimination? Use DoNotPay to get help with bills, reduce your property taxes, or find any unclaimed assets in your name.
We can also help you create numerous legal documents for personal, business, or real estate matters. You'll have a chance to fax your paperwork or find an online notary in the same app!
Use Our App To Right Other Wrongs
Injustice lurks around every corner, and DoNotPay won't have any of it. That's why we keep creating tools and services to help you fight back against all kinds of unfair treatment.
With our help, you'll be able to:
There's more where this came from because the good fight doesn't stop here.