A Breach of Contract Entitles the Non-Breaching Party To Sue for Monetary Damages
In the business world, a breach of contract is not a rare phenomenon. Violation of an agreement can cause serious harm to the non-breaching party. Luckily, a breach of contract entitles the non-breaching party to sue for monetary damages.
In this article, DoNotPay explains everything you need to know about seeking legal remedies in the form of monetary damages. We can also help you write a formal breach of contract demand letter to ask for compensation without going to court.
How Does a Breach of Contract Entitle the Non-Breaching Party To Sue for Monetary Damages?
A breach of contract is a severe violation of contract law, and one of the consequences for breaking this law is paying monetary damages. It occurs when one party to a contract fails to perform the obligations described in the agreement. Because of this violation, the injured party suffers significant losses that must be compensated.
If you decide to file a lawsuit for breach of contract, you will need to prove the following elements:
Existence of a valid contract
Plaintiff's performance or excuse for nonperformance (usually the breach itself)
Breaching party's nonperformance, i.e., the breach of contract
Losses and damage the injured party has suffered due to the breach
If you fail to prove these elements, the opposing side might use it as their defense.
Types of Monetary Damages the Non-Breaching Party Can Ask For
When a material breach of contract occurs, the plaintiff can seek monetary damages. The damages can be:
| Type of Damages | Explanation |
| --- | --- |
| Compensatory | Compensatory damages are monetary damages that the court awards to the plaintiff as compensation for the losses they suffered due to the breach. To get compensatory damages, the plaintiff must have evidence that the defendant caused the loss |
| Nominal | When the plaintiff cannot prove that they suffered losses due to breach of contract, they may be awarded nominal damages. In most cases, the amount of nominal damages is one dollar |
| Punitive | Punitive damages are monetary damages that a defendant must pay on top of compensatory damages. They serve to penalize the defendant |
| Liquidated | Liquidated damages are meant to represent losses in situations where actual damages are difficult to determine. The contracts must have a specific clause about liquidated damages so that the plaintiff can collect them |
When Can the Non-Breaching Party Sue for Monetary Damages?
The injured party may sue the breaching party for monetary damages as soon as they discover a breach of contract. The non-breaching party can sue as long as the statute of limitations—a timeframe within which the aggrieved party may file their lawsuit—has not expired.
In most states, the deadline for filing a lawsuit is:
Three years for written contracts
Two years for oral contracts
You should check your state's statute of limitations to make sure it has not expired before you sue for monetary damages.
Can You Ask for Compensation Without Filing a Lawsuit?
Some states require sending a demand letter before filing a lawsuit. Even if it is not mandatory in your state, you should consider filing the letter as litigation can be costly and time-consuming.
A demand letter is an official document in which you can ask the breaching party to either perform what they were supposed to or compensate you for your losses.
If you do not know how to write a demand letter, you might be tempted to resort to online templates, but you should know that they might not cover all the specifics of your case.
Luckily, there is no need to pay expensive lawyers or inspect unreliable samples and templates—DoNotPay has an easy-to-use product for generating demand letters. All you need to do is sign up for our app, and we will draft a fully personalized demand letter that complies with all the relevant contract laws.
DoNotPay Helps You Create a Solid Demand Letter in Mere Minutes
You do not have to waste time and energy researching all the legal requirements because our AI-powered app can create a legally formatted letter that caters to your needs. We will ask you a few questions so we can create a perfectly customized document.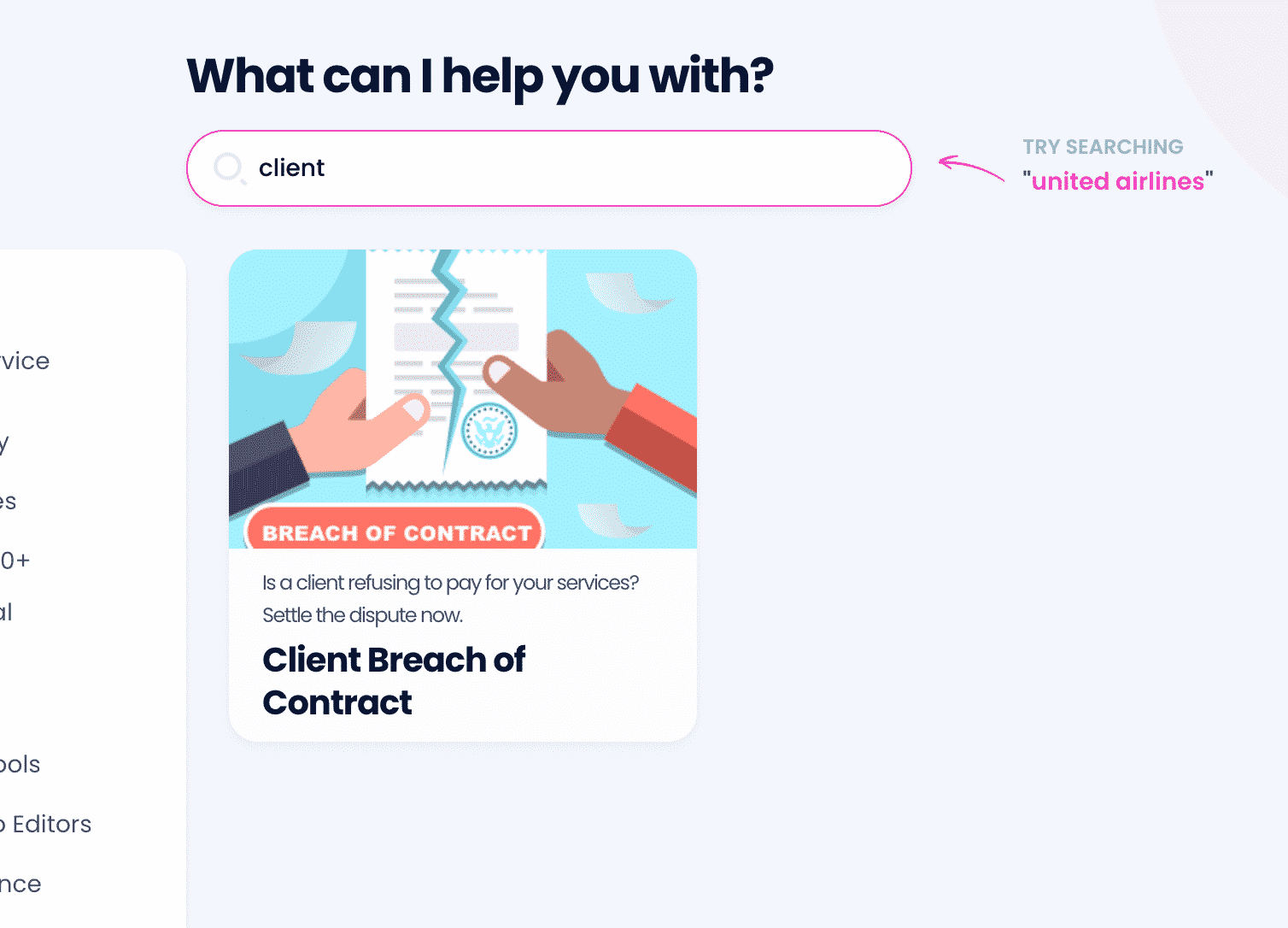 All you need to do is register for DoNotPay and follow the steps below:
Open the Client Breach of Contract tool
Add all the details about your case, such as:

Information about your client
Services you performed for them
The amount of money they owe you
The date of your last payment request

Set a new deadline by which the client needs to pay
After you complete the steps, DoNotPay will create a PDF document that you can print and send to your client.
That is not all we can do! If your client ignores your demands, you can use our app to sue them in small claims court effortlessly. Here is what DoNotPay can do for you:
Collect the paperwork
Fill out the court forms
File the complaint with court
Prepare a script that you can use at your court hearing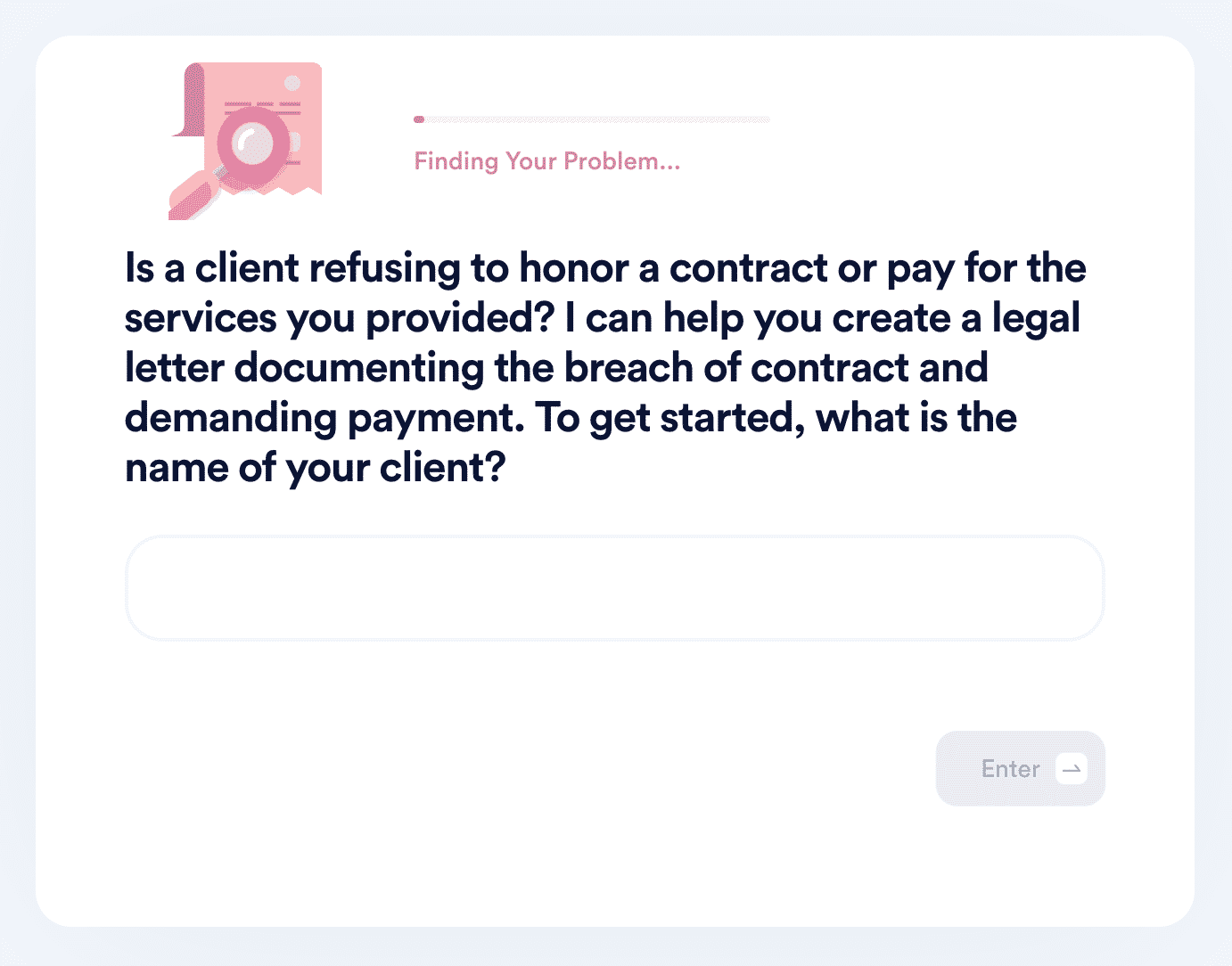 Get Down to Business With DoNotPay
If your to-do list is getting longer by the day, we offer numerous solutions. You can focus on growing your business while we handle the endless administrative tasks.
Here are some of DoNotPay's products and services that will assist your company tremendously:
DoNotPay Feature
Our App Will
Trademark Registration

Complete your company name, logo, or slogan registration application
Submit the application in your stead

Trademark Protection

Perform monthly checks
Notify you in case there is any trademark infringement
Help you file cease and desist letters

EIN Registration

Fill out and file your Employer Identification Number (EIN) application
Notify you of your new EIN

Register a DMCA Agent

Complete the DMCA agent registration process
Register the designated agent with the U.S. Copyright Office
There Is Even More We Can Do for You
Navigating the business world can be overwhelming. If your paperwork is piling up and disputes keep emerging, start using our app and declutter your workday from numerous chores.
The world's first robot lawyer can help you deal with the following:
Chargeback scams
Business loan applications
Faxing and mailing
Negative online reviews
83(b) election forms
Self-certification with the Privacy Shield program