Who Is Entitled to a 401k in a Divorce? Find Out Now!
Getting divorced can cause lots of stress since you have to pay attention to many different aspects. What paperwork do you need to complete, and what filing procedures to follow? How long do you have to wait to get out of the marriage, and how much is it going to cost you?
When the division of marital assets is laid out on the table, negotiations can get extremely complicated and heated. What happens to your 401k in a divorce? Is it part of the divided property, or can you keep it for yourself? DoNotPay answers these questions.
How Are Retirement Plans Divided in a Divorce?
The division of retirement accounts might be one of the most complex divorce issues because:
Special rules and laws apply
Your investment accounts are affected by changes in the stock market
The divorce decree uses specific language related to retirements accounts
You have to pay a penalty fee and tax if you try to cash out your 401k or individual retirement arrangement account before or during your divorce
If you need help understanding and managing your retirement accounts during the divorce, you should consult an expert, such as a:
Financial advisor
Pension plan or Social Security benefits administrator
What Happens to a 401k in a Divorce?
All funds that you or your spouse have contributed to the 401k account throughout your marriage:
Are a part of your marital property
Need to be divided unless otherwise stated in a valid prenuptial agreement
How To Split a 401k in a Divorce
In the table below, you can see how a 401k is divided in a divorce and what affects the division:
What Affects Retirement Accounts Division
Specifics
State laws
In the U.S.:

Most states follow equitable distribution laws, i.e., the judge divides the property based on what is:
Some states are community property states, i.e., the judge will divide assets equally

The following states belong to the latter group: Idaho, California, Nevada, Arizona, New Mexico, Wisconsin, Texas, Louisiana, and Washington

A prenuptial agreement
As a prenuptial agreement is superior to all state property distribution laws, your assets will be divided according to the valid agreement and not the court order
An out-of-court settlement
If you and your spouse can cooperate and communicate well enough to have a friendly divorce, you should agree on the division of marital assets and other divorce matters. That way, you'll make decisions on your post-divorce life and not let a stranger—i.e., the judge—make them for you
What Happens to Retirement Funds in a Divorce Could Depend on What Type of Divorce You Choose
You and your spouse should negotiate all divorce aspects, including:
If you need help working some problems out, you should consider going to mediation. Once you agree on all matters, you can file for an uncontested divorce—here's how to start the process:
Complete, serve, and file the necessary papers alone—You won't need to pay a hefty retainer fee to a lawyer to prepare the documentation for you. Instead, you can fill out court forms that are available on the website of most state courts
State the proper grounds for divorce—As most states allow a no-fault dissolution of marriage, you can cite the following reasons for divorce:

Incompatibility
Irreconcilable differences
Irremediable breakdown of the marriage

Prepare a divorce settlement agreement—You need to create this document to list and explain everything you and your soon-to-be ex-spouse have agreed on
Register for DoNotPay to get a divorce settlement agreement that you can present to the judge for review and approval.
Get a Rock-Solid Divorce Settlement Agreement With DoNotpay
Our AI-powered app can help you create a divorce settlement agreement that complies with both:
Your needs and wishes
State and local legal requirements
Aside from fulfilling these above-listed criteria, we can provide you with the required document in a matter of minutes!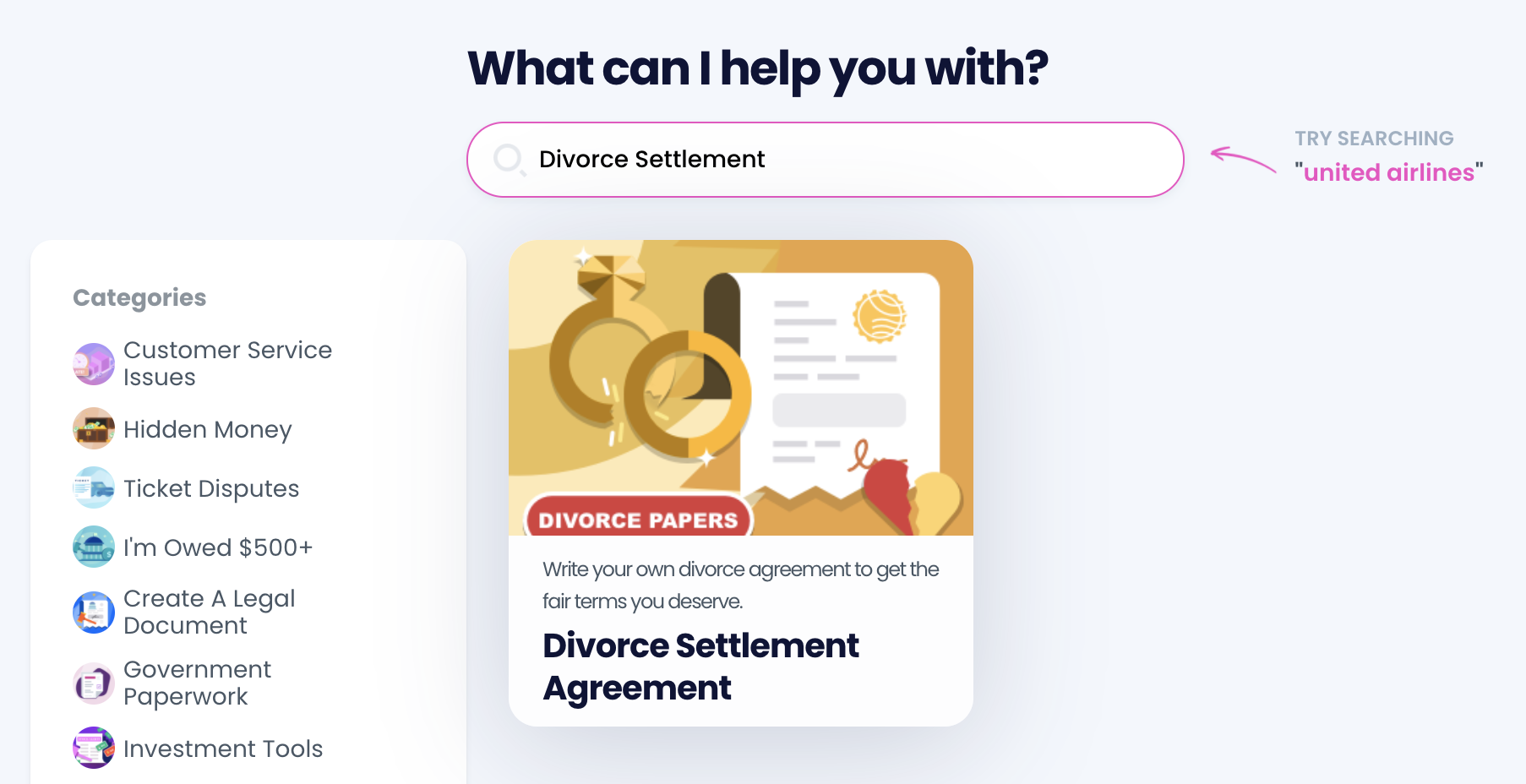 Here's what you should do—subscribe to DoNotPay and go through these steps:
Pick the Divorce Settlement Agreement feature
Answer our chatbot's questions regarding the division of assets, debts, income, and the agreed children-related matters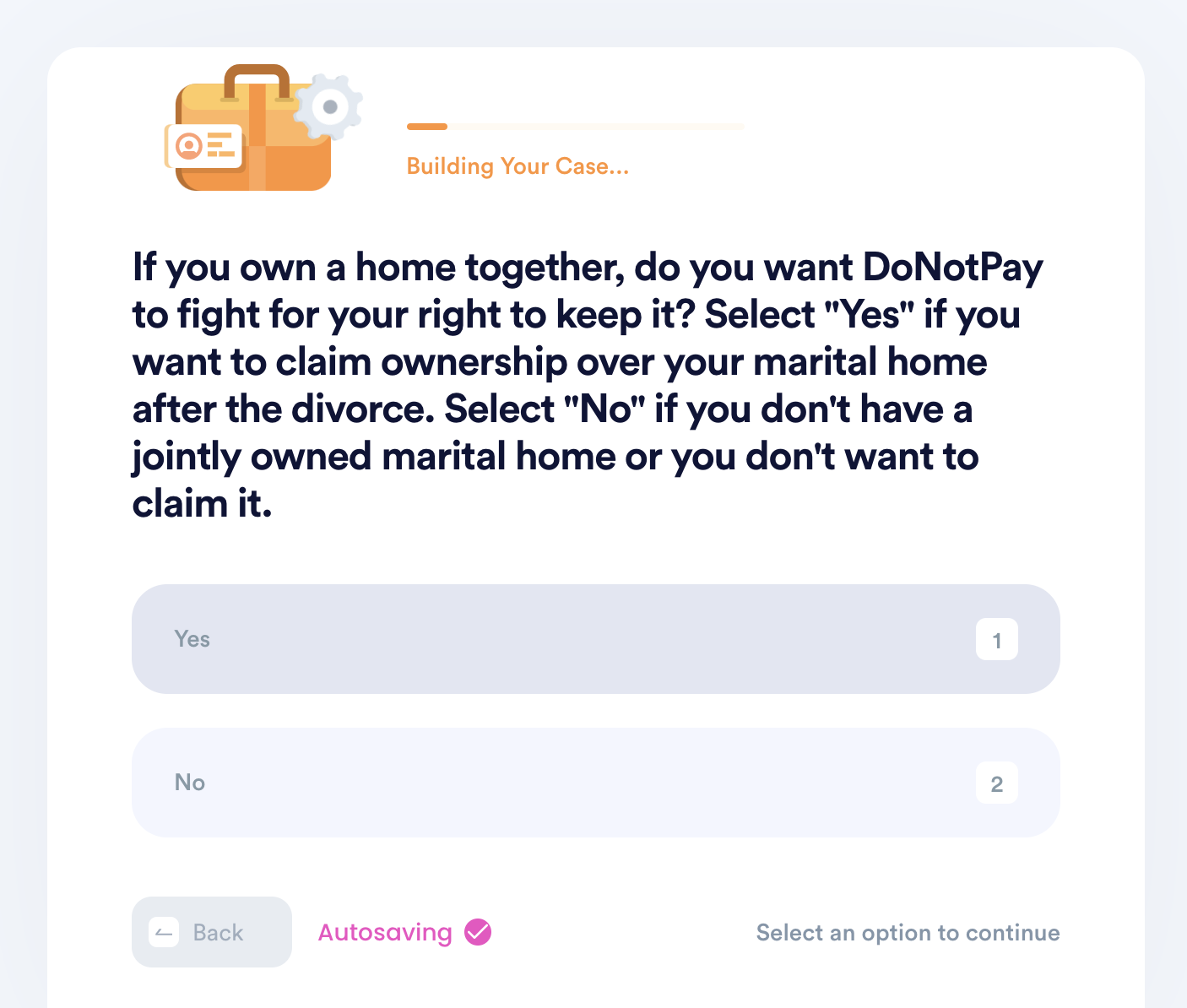 If you need to get the document notarized, we can help you with that issue, too. Notaries public that we cooperate with work online 24/7!
Want To Find More Answers to Divorce-Related Questions? DoNotPay Is the Right Source!
Our vast knowledge base covers lots of different bureaucratic topics and offers useful solutions. Here are some divorce-specific questions DoNotPay provides answers to:
Get the State-Specific Information About Divorce Procedures Across the U.S.A.
Check out the following table to get the deets on specific divorce procedures in your state:
DoNotPay Helps You Tackle All Kinds of Problems From the Comfort of Your Home
Are you too busy to go to Target, Walmart, or photo studios to get your passport photos taken? DoNotPay offers you the possibility of taking them yourself and having them edited without going anywhere!
Thanks to our app, you don't need to visit the post office if you want to initiate a return. You can also skip going to a notary office because we'll help you get your documents notarized.
Here are some other tasks you can complete with ease using DoNotPay:
We Help You Get Fuss-Free Subscriptions to Any Service
Interested in a specific service or platform? Make sure to get the best out of your free trial without getting charged and ending up with an unwanted paid membership. Even if you make a mistake, DoNotPay can end your subscription in a few simple steps!
Our system allows you to generate virtual credit card numbers to prevent platforms from getting your real bank details and using them for unauthorized transactions. We also offer burner phone numbers that will help you go through any subscription or verification procedure without disclosing personal details.