How To Draft a 10-Day Demand Letter To Request Payment
Did you try to collect payment from your client, but they refused to pay an invoice and ignored your emails and phone calls? It's time to send them a 10-day demand letter.
In this article, we will explain what a 10-day demand letter for payment is, how you can draft it, and when you should send it.
Our app will also help you create this breach of contract demand letter in a few simple steps. If you sign up for DoNotPay, you can get a fully personalized demand letter in mere minutes.
What Can You Do When a Breach of Contract Happens?
When a breach of contract occurs, you have a few options to resolve the issue:
Contacting the client via email or phone
Sending a demand letter
Filing a lawsuit
If your client ignores your attempts to reach out, you can send a demand letter or pursue the matter in court.
Even though filing a lawsuit might be the most obvious choice for seeking remedies and collecting damages, you should consider sending the demand letter before legal action. You can give your client a deadline for responding to your letter, and this is where a ten-day demand letter comes in.
What Is a Ten-Day Demand Letter, and Why Should You Send It?
A 10-day demand letter is an official document that you can use to request payment. The client has ten days to pay you, or they risk a lawsuit for breach of contract. A ten-day demand letter acts as a final notice which should make your client take you seriously and pay the amount they owe you.
You should send a formal ten-day demand letter because it can:
Serve as evidence in court that you tried to settle the dispute before resorting to litigation
Make your client take you seriously
Help you organize your case
Expedite the case and save you money
When Should You Send a 10-Day Demand Letter?
You should send a ten-day demand letter when:
Your client committed to the agreement but failed to perform
The breaching party claims that they do not owe you money
You paid for delivery, but the goods never arrived
The breaching party fails to acknowledge your informal requests
Your client is hard to reach on purpose
What Should Be the Content of a Ten-Day Demand Letter?
In the table below, you can find the guidelines for writing a ten-day demand letter:
Ten-Day Demand Letter Elements
Details
Introduction
The introduction should include basic information about why you decided to send a demand letter
History of services
This section should contain the facts about the event, such as:

Date when the contract was concluded
Services you provided for the client
Date when the client was supposed to pay or provide the goods or services
Previous attempts to get the money
Your client's response or lack of it

Evidence
Attach any evidence you have about the client's refusal to honor the deal, such as:

Copy of the agreement with the client's signature
Receipt of your purchase
Emails where you requested payment
Photos of damaged goods (if applicable)
Client's acknowledgment to deliver the goods, services, or payment within the date outlined in the agreement

Demand
The demand should contain your request for payment or performance under the agreement. You should include a warning that you intend to pursue the matter in court if the client fails to respond and honor the agreement
Deadline
Give the breaching party a deadline of ten days to respond to your letter and fix the problem. Make sure to emphasize that the client has ten days
Rely on DoNotPay To Generate a Rock-Solid Demand Letter
You can find ten-day demand letter templates and samples online, but keep in mind that they are generic and will not automatically comply with your state's laws.
Instead of spending countless hours online searching for a reliable template and adjusting it to your case, use DoNotPay to create an airtight demand letter in minutes.
Follow the steps below to generate your demand letter easily:
Open the Client Breach of Contract product
Add all the required information, such as:

Details about the client and your contract
Services you performed
Date when you entered the agreement
Date of your final payment request
Amount that the client owes you

Select the final due date for payment—ten days
Add photo proof (if you have any)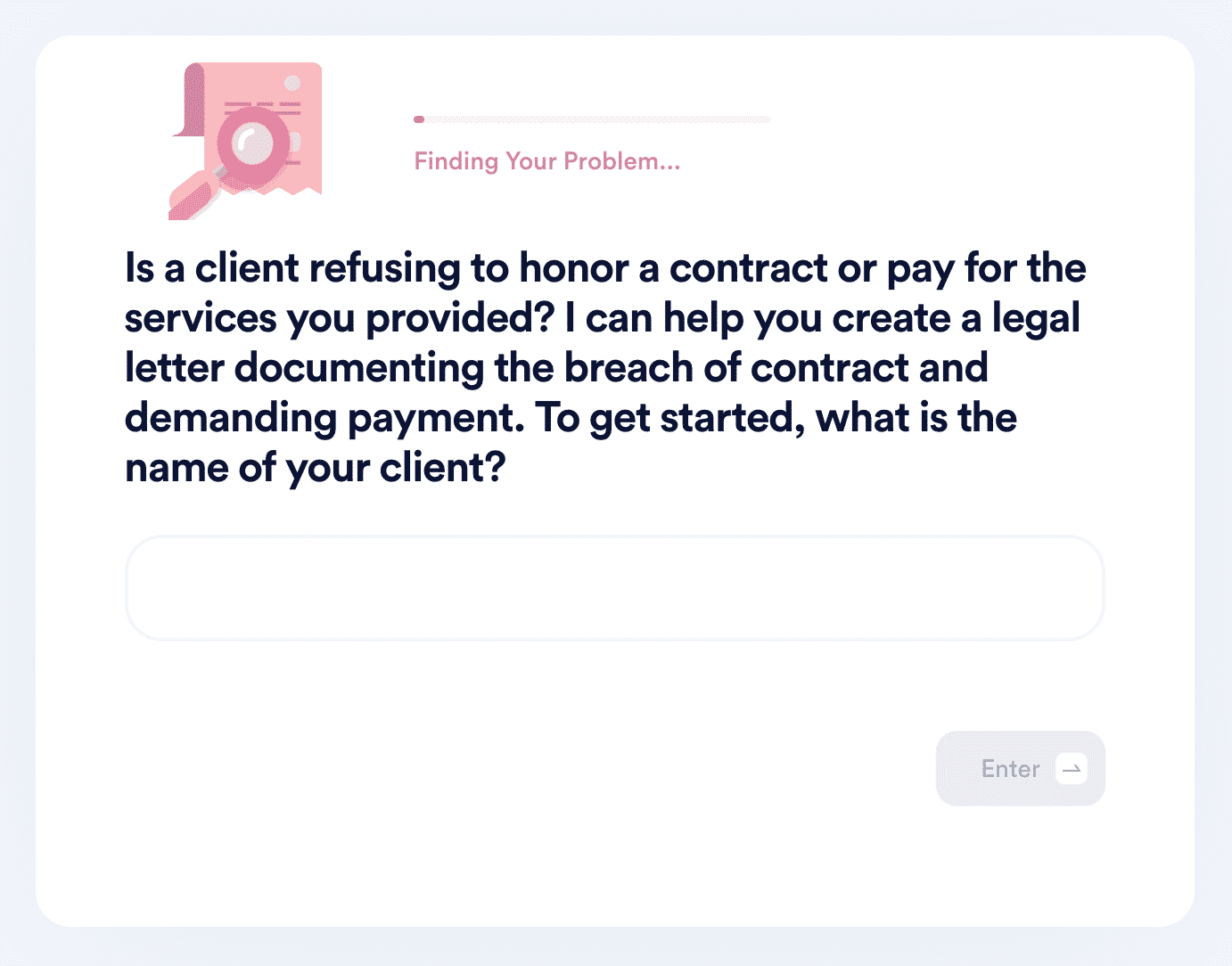 As soon as you provide the details about your case, our app will generate your demand letter automatically.
If you want to get familiar with state-specific laws regarding breach of contract, consult the table below:
Did Your Client Ignore Your Demand Letter? Sue Them in Small Claims Court With DoNotPay
If your client fails to respond to your demands, DoNotPay will help you take them to small claims court. Keep in mind that you must prove all the elements of a material breach of contract to make a solid case and protect yourself from affirmative defenses your client may raise.
Our app will do the following for you:
Help you collect all the necessary paperwork
Provide you with the required court forms
File your lawsuit in court
Create a script you can use at your court hearing
DoNotPay Offers More Help for Your Business
Running a small business is no small feat. When you're drowning in red tape, DoNotPay is here to lend a helping hand. Whether you need to register your trademark or protect it later on, we have got it covered. With our help, you will keep your logo, slogan, and business name safe.
Are you also yet to register for an Employer Identification Number (EIN)? Not to worry—our app can file the IRS SS-4 form in a few clicks. With the world's first robot lawyer at your fingertips, you will also be able to create your 83(b) election forms with ease—ready for your employees to sign them right away.
In case you are struggling financially, we can assist you with a business loan application.
Communication Has Never Been Easier With Our App
Keeping up with clients can be challenging, especially if each has a preferred method of communication. Luckily, our multifunctional app makes it easy to both fax and mail contracts, letters, and documents.
You can also count on our assistance when you need to:
Fight fake negative reviews online
Deal with a client regarding a breach of contract
Dispute fraudulent chargebacks
Thanks to DoNotPay, there is no need for back-and-forth communication. We will handle the necessary demand letters and forward them on your behalf.
We can also help you manage your DMCA agent registration and Privacy Shield program self-certification.